The Unicorn Herd

You were still lost in your musings about the magic of this place when you stumbled across another young Crystal. This one was white with little pink hearts all over her coat and you were immediately reminded of that mare with the large heart upon her back. You wondered idly if the Herd kept a family tree somewhere, it would be complex and beautiful to be sure!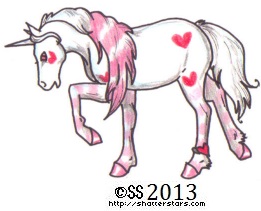 She was soon joined by a nearly solid brown Crystal. Now there wasn't anything distinguishing about him that you could put your finger on, except for the small silver anklet, but maybe he too was a foal of Island?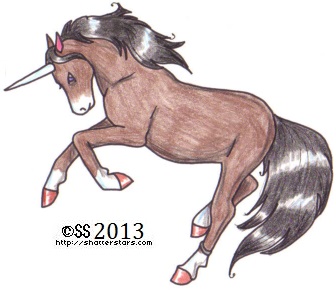 You were about to approach when a third mare appeared, this one bearing a string of Christmas lights about her neck. Now that was familiar as well, could it be coincidence that there were two Crystals with the same accessories?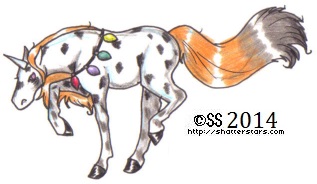 You watched them for a while until you realized that someone was watching you in turn. You glance to your left to see a third mare standing in the shadows of some trees. When she realized she'd been discovered she trotted over to greet you and brought you forward to meet the other three.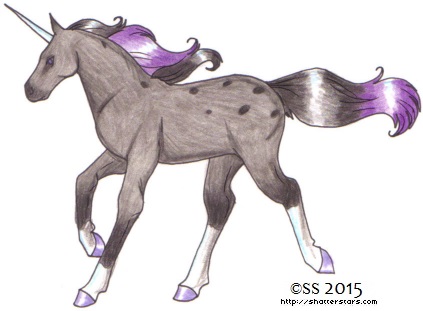 They all gathered around you curiously and you introduced yourself. The grey mare nodded gently and said, "My name is R'Avie'tri'Ayr." She then indicated the little one with hearts upon her white coat. "This is Psion'Zullian, and beside you, the brown stallion is Shiya'feila." She was about to introduce the last one but glancing to where the spotted mare had been a moment ago, she was gone. Everyone glanced about confused until she bounded out from her hiding place with a big grin on her face.
"And I'm Kik'tri'Garana, that means Dance of Lights in your language!" Everynoe laughed as the feisty little filly and she proceeded to prove that she lived up to her name.
R'Avie'tri'Ayr approached you again, "We are all foals of the Island herd, do you think you might have met our parents during your wanderings?" Now by now you'd met a lot of Crystals, but after they all described their one parent that lived on the Island (most had found mates outside the Realm) you knew you were right in feeling that each of them reminded you of another Crystal you'd met thus far.


Stats: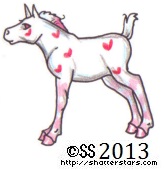 Name: Psion'Zullian [Passion Music]
ID: 1135
Gender: Mare
Parents: Palmnic'shalalt - 818 x Aes'tri'oige - 830
Birth Band: Cresna'York
Band: None
Offspring: None
March 2014
Name: Shiya'feila [Silver Charm]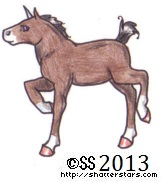 ID: 1141
Gender: Stallion
Parents: Kabbidi'Trizyri' - 509 x Casha'da'r'trola - 541
Birth Band: Mezirin'Neamh
Band: None
Offspring: None
March 2014
Name: Kik'tri'Garana [Dance of Lights]
ID: 1161
Gender: Mare
Parents: Joiyen'Rosann - Chris002 x Vicirat - 729
Birth Band: Cresna'York
Band: Karasta
Offspring: None
January 2015
Name: R'Avie'tri'Ayr [A Shade of Dusk]
ID: 1163
Gender: Mare
Parents: Oasisdim - 387 x Tz'mysesia - 304
Birth Band: Simuun's'Sorren
Band: None
Offspring: None
January 2015
The Valley Adoptions
---
Please ask permission before using anything on this page
Text © SunBlind
Unicorn images © the original creator - follow the links provided above to ask permission to use them.

Background from unknown source