The Unicorn Herd

It was snowing. Somehow you'd always associated long, white, sandy beaches with hot summer sun and fun in the ocean waves. But it wasn't much fun now, the spray coming off the sea was icy and the sky a dull grey. A storm was brewing out there and you didn't want to be caught in the blizzard looming over the darkened horizon.
But whether you wanted to or not, you had little choice. You had only taken a couple of steps before its fury struck. One moment you could see, and the next there was nothing but a swirl of white. The icy flakes stung your eyes and cheeks, the wind cut to the bone.
You stumble about, but between the rising snow and the soft sand beneath you made little progress. Not only that, but you had been heading towards the sea rather than away, a discovery you made as one wave washed up to your feet. Turning back you head in the direction you hope will take you to the woods for shelter.
It was slow going, and by the time you got there the snow had let up a bit. And you found you were not alone. The windswept stallion shook his full mane as you approached.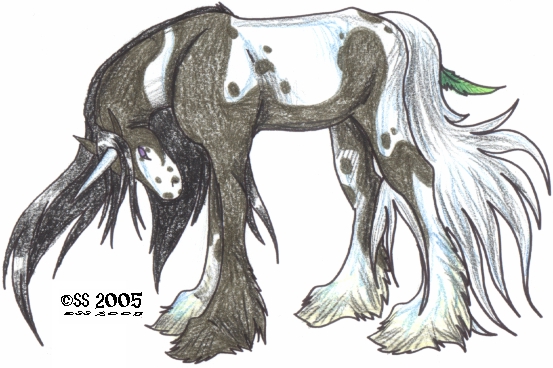 "Human," he said in his deep voice, "This is no weather for you to be out here. Come, follow me."
Grateful for his large form that blocked the wind, you walked by his side till he'd lead you amongst the trees. There, it was like another world, the snow swirled outside, but only a gentle fall made its way through the branches. The pair of you crunch through the snow in silence for a little while.
"I am Ciaran, a Drum Crystal. What brings a human like ye to a place like this?" He glanced at you with one eye, curious as to who you were. You tell him about your travels, about the other unicorns you'd met, in particular the other Crystals. And then you mentioned Caelen, the other Drum Crystal you'd encountered.
"Ah, Caelen is me sire..." his voice trailed off as a strange looking apparition took form in the snow.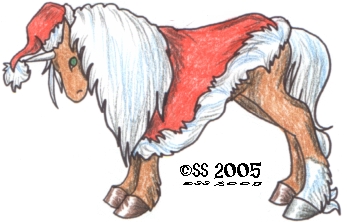 The Mini-Crystal stallion had a thick white mane, but that wasn't what caught Ciaran's attention. It was the big red Santa hat and coat that was rather odd. For a moment both of you just stare at the stallion till his eyes narrowed and he retorted, "It's cold! Or haven't you noticed?"
You start laughing, you couldn't help yourself. Ciaran probably could have held a straight face had he been alone, but your laughter was causing the edges of his mouth to twitch. The smaller stallion sighed, "Fine. Laugh. But at least I won't wake up a frozen popsicle tomorrow morning."
You had to agree with him, though it looked a little silly, he was certainly much warmer than you were. You still had to stand close to the Drum Crystal to keep out the chill even though the wind couldn't reach you here. You ask the second stallion's name.
"Lihah'ralas," he replied. Ciaran nodded in understanding. "Christmas Story," he translated for you.
"Wait," you say. "Did you hear that?" The other two paused, Lihah'ralas tipping his head to one side in concentration. Then you heard it again, the sound of bells. When you looked in the direction the sound came from, the three of you could see some moving coloured lights. Aliens? In a world of fantasy?
The three of you wander over to investigated. What you find surprised you. Two more Crystals all dressed up for the holidays.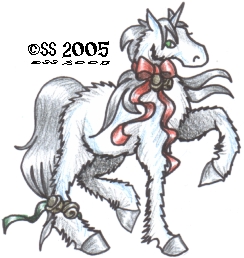 The mare was small and fuzzy, and she was the source of the bells you heard. The stallion was the source of the lights, the Christmas lights that is, for he had a wreath of them around his neck. They paused in their dancing as your odd group approached: the large Drum Crystal, the Santa look-alike, and a shivering human traveler. You must have seemed pretty odd to them, but they broke out into smiles and welcomed you into their little clearing.
The mare did the introductions, "I am Arlaa'tri'xeir, and this is Joiyen'Rosann. Please join us, and enjoy this wonderous weather we are having!" Obviously her thick fuzzy coat made her oblivious to the cold. Lihah'ralas looked like he wanted to be elsewhere and sulk under his warm cloak, but with some coaxing, Joiyen'Rosann managed to get him to join in the dance. Ciaran, his curiousity piqued, also joined the happy group. You were suprised at how such a large equine could be so graceful, his huge hooves throwing up snow and mixing with his feathered fetlocks.
At first you were too shy to join in, but you found that sitting on a frozen rock wasn't helping you get any warming. You tell yourself you're only doing this to keep warm, but inside, you enjoyed the dance. And soon all shyness vanished and the group of you danced a dance of hope and joy for the coming year, the snow floating gently about your forms.


Stats:
Name: Ciaran
ID: 727
Gender: Stallion
Parents: Caelen - 466 x Dunvegann'kik - 495
Birth Band: Dunvegann's'Melli
Band: Duin'Zezida
Offspring: Titayn
Note: Drum Crystal
December 2005
Name: Lihah'ralas [Christmas Story]
ID: 735
Gender: Stallion
Parents: Wild
Birth Band: Wild
Band: Cresna'York
Offspring: None
Note: Mini-Crystal
December 2005
Name: Arlaa'tri'xeir [Spirit of Hope]
ID: Chris001
Gender: Mare
Parents: Wild
Birth Band: Wild
Band: Cresna'York
Offspring: None
Note: Mini-Crystal
December 2005
Name: Joiyen'Rosann [Joyous Messenger]
ID: Chris002
Gender: Stallion
Parents: Wild
Birth Band: Wild
Band: Cresna'York
Offspring: Kik'tri'Garana
Note: Mini-Crystal
December 2005
The Valley Adoptions
---
Please ask permission before using anything on this page
Text © SunBlind
Unicorn images © the original creator - follow the links provided above to ask permission to use them.

Background from unknown source