The Unicorn Herd

Suddenly you awoke. You look about and find yourself on the beach, not a unicorn in sight nor a single snowflake in the sky or on the ground. Was it a dream? If so, it had felt very real. But now the sun was warm upon your face and you blinked in the bright light. The ice crystal fell from your eyelashes.
Ice crystals?
But you didn't have time to ponder about that. A dark mare with a flaming mane and tail galloped down the beach towards your prone body. Without hesitating a moment, she gathered her muscles and jumped easily over your form in the sand. It took her a few more strides to slow down and stop.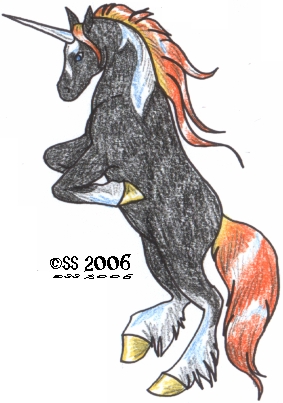 The mare snorted in disgust at your presence. "Another human on our Island. Does SunBlind not fear for our safety?"
You try to reasure her that you mean no harm. That SunBlind was trying to teach you how precious myth and magic was. The mare was not convinced. "I find that most humans only value things with monetary value. When will the poachers start coming for our 'precious' horns, or worse, when will the paying tourists start to come en masse, to gawk at the pretty horses."
You could see you weren't making much headway and you looked about for someone to back you up.
What you see is a small white mare with a large red heart upon her back. She was sitting, facing away from the commotion, staring out to sea.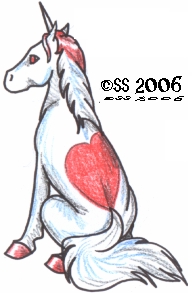 When she felt your eyes upon her back, she glanced behind her. Seeing that she'd been noticed, she got up and joined you, "Please Sha'to'kalla'nyght, SunBlind would never allow anything to come to our Island that would harm us. This human comes in friendship."
The black mare considered the smaller mare's words. "All right Palmic'shalalt, but I'll still be keeping an eye on this stranger."
Palmic nodded as the black mare moved away. To no one in particular, the mini-Crystal said, "There is fear in her heart, and we don't know why. Something happened, somewhere. And she not only refuses to tell us what it was, but even denies the event. It makes her heart heavy and cold." The mare then turned her red eyes upon you, "Your heart is kind. I am not frightened of you. Come..."
She walked away slowly, waiting for you to catch up to her. As the pair of you walked along the beach you wondered where she was taking you. When you got there you were happy she did.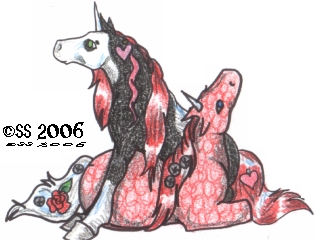 They were a beautiful pair, and obviously very much in love. The stallion stood protectively over his gentle mate as you approached. You hated to disturb them, but they both rose to greet you, nodding first to Palmic'shalalt, whom they obviously knew from before.
The stallion nods to you next, "I am Ma'shire, and this is my mate Pom'donna." You introduce yourself in return, thinking all the time that they were the perfect pair. Everything about them was perfect. Palmnic'shalalt approached you, "I knew you'd understand."
You were in the presence of true love. Few ever find themselves in the presence of such rarity, fewer yet get to experience it for themselves.


Stats:
Name: Sha'to'kalla'nyght [Fire in the Night]
ID: 788
Gender: Mare
Parents: Spirall'tri'Dolli'Kik - 456 x Verinda'shaus - 436
Birth Band: Jun'Chianta
Band: Zory'tri'Sha
Offspring: R'Tani'Tri'Dol
January 2006
Name: Palmnic'shalalt [Rhythmic Beat]
ID: 818
Gender: Mare
Parents: Wild
Birth Band: Wild
Band: Cresna'York
Offspring: Psion'Zullian

February 2006
Name: Pom'donna [Rose Bell]
ID: 837
Gender: Mare
Parents: Wild
Birth Band: Wild
Band: Cresna'York
Offspring: Myrish'tri'oige
February 2006
Name: Ma'shire [Heart Lace]
ID: 838
Gender: Stallion
Parents: Wild
Birth Band: Wild
Band: Cresna'York
Offspring: Myrish'tri'oige
February 2006
The Valley Adoptions
---
Please ask permission before using anything on this page
Text © SunBlind
Unicorn images © the original creator - follow the links provided above to ask permission to use them.

Background from unknown source