The Unicorn Herd

You leave the fillies and colts of the herd and wander off along the beach. As the temperature dropped you mused on how such a small area could have such a wide range of weather. But soon your musings turned to shiverings as it went from being cool to being outright cold.
Then the snow began to fall. It was beautiful, but was hard to appreciate as you skin broke out in goosepimples. Then you saw the stallion galloping along the beach trailing a ribbon about his neck. He tossed his head as he noticed you and came to a stop nearby.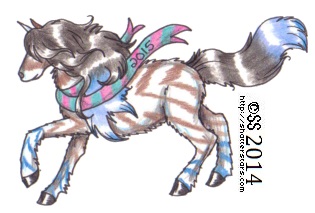 "Greetings, I am Juno'Quip. You look a little cold, follow me and I'll get you out of this wind." You realize that his thick, fuzzy coat is keeping him nice and toasty warm even in this kind of weather.
He leads you into the trees. He doesn't stop right away, but heads towards a white shimmer you could see between the branches. As you approach you realize it was another Crystal.
She had risen up on her hind legs and as she tossed her head, the bells in her mane jingled sweetly in the hush of the forest. She comes over to greet the smaller stallion then dips her head in your direction. "I am Ciran'tri'kalla'donna's. Not too many humans travel through these lands, may your journey be filled with wonder and joy."
You smile and reply that it has already been filled with both, that the unicorns of all kinds that you had met here went far beyond even your wildest imagination and that it would be very hard to return to your own world in which magic was hard to find. You would miss the magic that threaded through this Island and the rest of the Realm.
It was at about that point that you noticed it was growing significantly warmer. Weather here was unpredictable to say the least. A soft rustle in the trees and the three of you turned around to see another Crystal mare coming to join you. Her coat was a sunlit gold, could she be the source of the heat?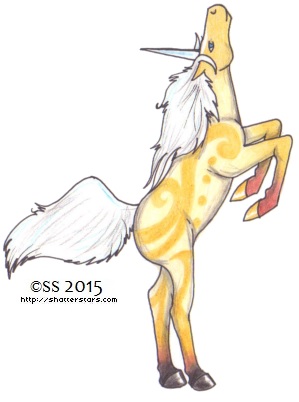 Before you had a chance to ask her name, another mare trotted briskly out of the trees. For a brief moment you almost called out the name Nanrise'sepearna but then you realized her legs were a shade of purple, not grey, though she was otherwise nearly identical to another Crystal mare you'd met on the Island. As she trotted over you ask about the resemblance.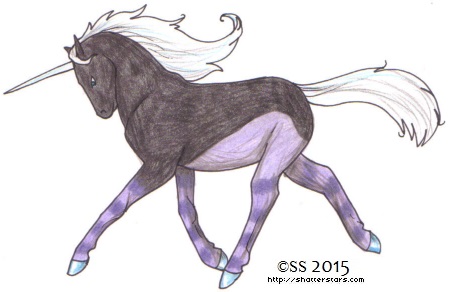 "Yes, Nanrise'sepearna is my dam. I am Ayr'Ishlan". And when you ask about the golden mare she replied, "Another filly of the Island Crystals, her name is Nenti'tri'kalla'Zwirlse'Sunia. We are siblings of a sort, from the same birth band."


Stats:
Name: Juno'Quip [Future Sight]
ID: 2015-NewYears
Gender: Stallion
Parents: Wild
Birth Band: None
Band: Cresna'York
Offspring: None
January 2015
Name: Ciran'tri'kalla'donna's [Carol of the Bells]
ID: 1153
Gender: Mare
Parents: Wild
Birth Band: None
Band: None
Offspring: None
January 2015
Name: Nenti'tri'kalla'Zwirlse'Sunia [Heat of the Swirling Sun]
ID: 1178
Gender: Mare
Parents: Parasecse'dezzerna - 1013 x Kalla'riyshali'zorie - 723
Birth Band: Naasna'bazzia
Band: None
Offspring: None
January 2015
Name: Ayr'Ishlan [Dusk Fog]
ID: 1190
Gender: Mare
Parents: Nanrise'sepearna - 1055 x Enniin's'Fallse - 944
Birth Band: Naasna'bazzia
Band: Vio'Gealain
Offspring: None
January 2015
The Valley Adoptions
---
Please ask permission before using anything on this page
Text © SunBlind
Unicorn images © the original creator - follow the links provided above to ask permission to use them.

Background from unknown source