The Unicorn Herd

After leaving the last group of Crystals, you find yourself in an area of windswept sand dunes. It was lovely, and wild, and somewhat desolate. The forest that had always been nearby was now nowhere to be seen, as if you'd found yourself on the edge of some forbidding but mysterious desert. At least you weren't alone, a Crystal stallion was watching you warily.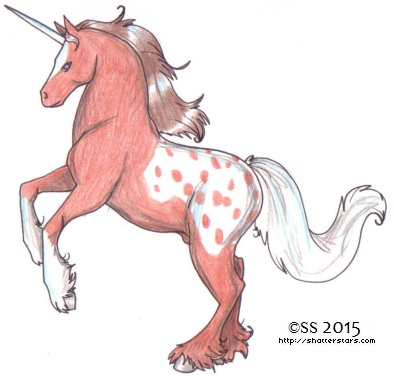 There was a bit of tension in the air as the two of you gazed upon each other, but that was soon broken by a cry of "IT'S SOMEONE'S BIRTHDAY!", and a small stallion with a balloon exploded over a nearby dune.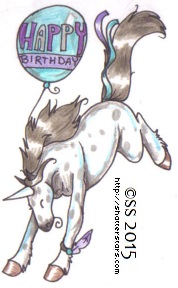 Needless to say, after the two of you recovered and got your hearts to stop beating right out of your chest, the tension was broken and everyone started laughing. You turn to the little stallion and ask whose birthday it was, since it wasn't yours.
"Oh, it must be someone's somewhere. I don't think a day goes by when it isn't a birthday! My name is York by the way".
The other stallion nodded towards you, "And I am Parasecah'Chroi, though it isn't my birthday either."
Talking of day, it was quickly becoming night. The two Crystals take their leave of you in the growing gloom and it very soon became quite lonely and somewhat desolate in this treeless region of the Island. Clouds began to cover the stars, and just before the moon was fully covered, you caught a glimpse of a small dark form upon the dunes. And then there was nothing but darkness.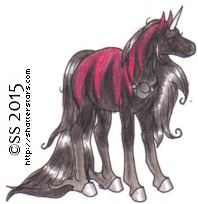 The night otherwise passed without incident. You found a sheltered place to sleep, fortunately without any nightmares, the magic of the Island must have kept those at bay, and soon you awoke to a windy morning. And you were not alone, a Drum Crystal mare stood over you.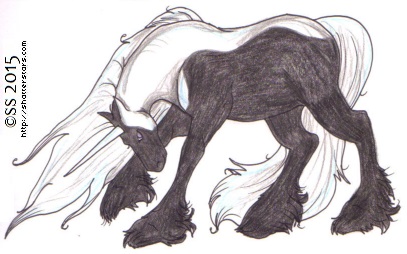 Her thick mane was like a sail in the strong wind from the sea, and then she spoke, "My name is Eisha. Come, a storm is approaching, you should seek shelter," and she began to lead you across the dunes as clouds once more gathered in the skies, this time blotting out the sun.


Stats:
Name: Parasecah'Chroi [Burnt Cinnamon]
ID: 1195
Gender: Stallion
Parents: Czaritic'Zory - 084 x Una'tri'kalla'Breeyz - 228
Birth Band: Dalli'Cayba
Band: None
Offspring: None
March 2015
Name: York [Celebration]
ID: 1198
Gender: Stallion
Parents: Wild
Birth Band: None
Band: None
Offspring: None
March 2015
Name: Yi^fas'tri'kalla'cayba [Dark Side of the Moon]
ID: 1209
Gender: Mare
Parents: Wild
Birth Band: None
Band: None
Offspring: None
April 2015
Name: Eisha
ID: 1215
Gender: Mare
Parents: Yuyen - 875 x Titayn - 1107
Birth Band: Sumaa'Arrullo
Band: None
Offspring: None
April 2015
The Valley Adoptions
---
Please ask permission before using anything on this page
Text © SunBlind
Unicorn images © the original creator - follow the links provided above to ask permission to use them.

Background from unknown source