The Unicorn Herd

The little spotted stallion bounded up to you, puffed out his chest and made a grandiose bow. You raise an eyebrow, a little surprised by the big deal he was making out of this meeting. He decides that your reaction was appropriate and that you were totally impressed by his arrival. Which you were, just probably not in the way he had intended.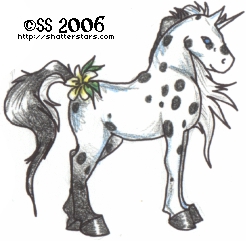 "I am Arthonsil'Daziee" he says. He had a fairly high pitched voice but he did his best to lower it a couple octaves. Unfortunately it only made the little fellow look a little more silly. He was trying so hard to appear strong and brave, but in the end, all he was succeeding to do was look cute and sweet.
Just then a very dainty mare stepped out from amongst the trees lining the beach. Each delicate hoof was placed with absolute perfection, her step was light and graceful, her mane and tail blowing gently in the breeze, a pearl on a string about her neck glittered in the sunlight. She paused as she noticed your presence.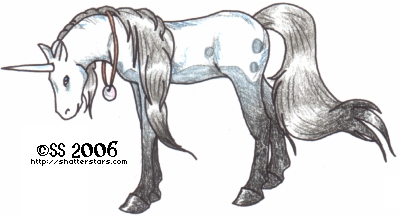 The stallion beamed and bounced over, "Chy'rukh, this must be the human your parents told you about!" He had dropped all illusion and was now simply the happy go-lucky stallion that he was. The mare smiled good naturedly towards the stallion, tolerating his exhuberant behaviour.
"I am Chy'rukh, filly of Epon'emerl and Shiya'dessin whom you met a while back."
Her voice was sweet and gentle, exactly the kind of voice you'd expect a unicorn mare to have. You wanted nothing more than to close your eyes and let the sound of her voice flow through your dreams. But when you opened your eyes, both the funny stallion and the elegant mare were gone.
In their place stood a zebra striped Crystal.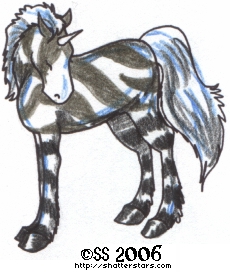 His head was turned to you, but his eyes were closed. You most slightly, and hearing this he opens his eyes and smiles, "I was wondering what you were doing, so I decided to try it to see what was so interesting." He pauses, "But all I could see what the back of my eyelids." He looks at you expectantly, as if you would describe some most wonderful experience that one could enjoy when one's eyes were closed. You felt a little silly and told him that it was nothing like that. He shrugs.
"So what is your name then? Mine is Neamhna'tri'tzutoih, which means Memories of Chocolate!" He beamed a great big smile at you. It was a funny name, but he was proud of it. You laugh, and he laughs with you. He was a very cheerful, good-natured guy.
"Stop!!!!!!!"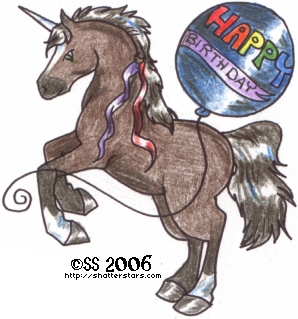 The pair of you whirl around to watch another stallion desperately trying to catch a balloon. He reared up in an attempt to stomp on the string, but the balloon was an elusive thing, slipping past the flashing hooves. He then tried to grab hold with his teeth, but just then a gust of wind sent the balloon in another direction. He pinned his ears back in frustration.
You rush in and grab hold. The balloon boobed angrily in your hand, but finally submitted to being caught. The brown stallion looked at you. You shrug and point out that you had hands, and balloons were designed to be held by hands. He thought about that a moment and nodded bruskly.
"Thank you human, I am in your debt. My name is Gal'to'tzeria" With that the stocky little stallion took the balloon carefully in his teeth and trotted off. Neamhna shrugged, guess not all stallions were very friendly.


Stats:
Name: Arthonsil'Daziee [Prideful Flower]
ID: 903
Gender: Stallion
Parents: Wild
Birth Band: Wild
Band: None
Offspring: None
May 2006
Name: Chy'rukh [Precious Pearl]


ID: 908
Gender: Mare
Parents: Epon'emerl - 516 x Shiya'dessin - 517
Birth Band: Sy'Sunia
Band: None
Offspring: None
May 2006
Name: Neamhna'tri'tzutoih [Memories of Chocolate]
ID: 937
Gender: Stallion
Parents: Tzutoih'lo'creme - 649 x Oiche'Enyi - 064
Birth Band: Yixan'Zazv'la
Band: None
Offspring: None
July 2006
Name: Gal'to'tzeria [Grace in Strength]
ID: 956
Gender: Stallion
Parents: Wild
Birth Band: Wild
Band: None
Offspring: None
Note: Birthday gift!
July 2006
The Valley Adoptions
---
Please ask permission before using anything on this page
Text © SunBlind
Unicorn images © the original creator - follow the links provided above to ask permission to use them.

Background from unknown source