You leave the snow behind and return to the fresh coolness of a pine forest in the afternoon. The ground was soft and mossy beneath your feet, and each step roused the pine needles beneath your boots and released their sharp fragrance. You close your eyes to take a deep breath. When you open them again you see a black mare.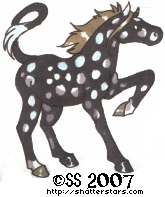 Her dark coat was spotted with the most amazing white marks. They were like the sunlight filtering through the trees onto the forest floor. And as she moved, so did they, just as the way the sunlight shifted as the wind moved the branches above. Stars upon moonless night.
A cheerful humming drew your attention in the other direction. A second mare of sunlit gold came prancing up to join the two of you. Her whole form exuded joy. The way her body moved, the energy contained within her delicate frame, you couldn't help but think of Flair and his vitality.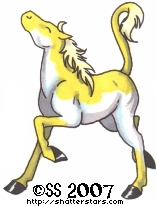 With a big grin she said, "Hello!". The black mare snorted in reply, she didn't appear to be as friendly as most Faymaah. The yellow mare continued, "I am Exuberance." The black mare snorted again, it was almost condescending.
That's when you realized that the two Faymaah didn't know each other, and that Exuberance was waiting for a introduction from the black mare. Finally the other mare mutters, "Celestial". The yellow mare beamed, "Then you're Kit's filly! Nice to meet you!! I'm Flair and Solemn's foal." The black mare wasn't impressed but you were.
A Kirrih bounded out from the bushes, carrying a large yellow flower...wait, no that wasn't a Kirrih...was it? Exuberance noticed your confusion and giggled, "Yes, she's a Kirrih, her name is Illa. Nirya over there is also a Kirrih...the pink one. The blue one should be of more familiar form, his name is Talin." You turn to look at the pair staring at a tall pile of...easter eggs? And how on earth did they stay up like that?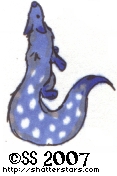 Talin lost interest in the eggs and came over to sniff at you instead. Nothing could distract Nirya from her fascination with the brightly coloured ovals. A shadow appeared over the pink Kirrih, and even then she didn't look away. You did, and saw a Faymaah mare.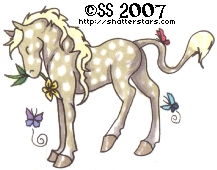 She too carried a bright yellow flower like Illa, and butterflies followed in her wake. Exuberance bounded over, "Easterlily, we've got guests!" No sooner had she looked over at you but a fourth mare entered the clearing. This one streamed with hearts.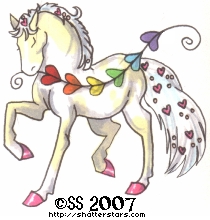 "Love! I was just about to come looking for you." Once again Exuberance bounded, this time to join the other mare. Both were smiling at you, putting up with the yellow mare's youthful energy inherited from her sire. You looked to where the black mare had last been standing, but at some point she'd faded into the shadows of the forest. You hoped she wasn't feeling left out, that she was a loner by choice.
Besides, you didn't have time to go looking for her. Love had draped her ribbon of hearts around your neck and Easterlily was offering you her flower while a buttefly fanned its wings upon your head.