You leave the gathering of Faymaah and trek deeper into the pine forest. The air began to cool noticeably till the wind actually had an icy bite to it. You shiver a bit and pull the cloak you're wearing closer around you.

Cloak? When did you get that? You stop to look around and discover that it has started to snow. A series of high pitched chitters drew your attention to a Kirrih on a wreath. Well, if the Faymaah dressed up for Halloween, why not celebrate Christmas too!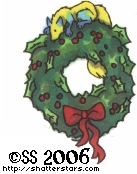 Looking down, you notice another female Kirrih curled about a candle, probably for warmth. You didn't blame her, it was now cold enough to see your breath!

Nearby where two other Kirrih. One was bright green and very interested in the fact that you were here. He came right up to you, then clambering up your leg he started searching your pockets. The other, a female, was much more interested in a small insect buzzing about. Then a white Kirrih joins the other two. It appeared that he had a tiny wreath wrapped about his neck.


Suddenly all the Kirrih paused and turned their heads to the north. You stare through the trees but see nothing, you strain your ears but hear not a thing...wait, maybe there was something. A kind of jingling sound. Yes, it was the sound of sleigh bells coming closer. It couldn't be Santa could it?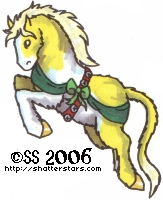 The fuzzy yellow and white coated mare bounded out of the trees scattering the group of Kirrih. She beamed a wide smile at you. "Follow me!" she said cheerfully and took off jingling through the trees, the Kirrih scurrying after her. You shrug and follow the odd group.
You struggled to keep up, but the sound of the bells kept you on track. Soon you came to a clearing where there were two more Faymaah, one decorating a tree, another lighting a menorah. They both looked up as you appeared.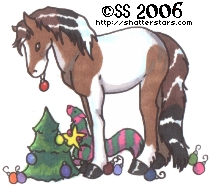 The yellow and white mare raced around the clearning and stopped nearby. "Alright," she said between gasps of air. "The yellow Kirrih is Sipht, the reddish brown one is Arra. The green one with a love for fudge is Vule, the rainbow-tailed one is Nissa and the white one is Snow. And the blue one is Falen."
The blue one? Again you heard the sound of bells, only this time from the trees above. You looked up and saw the Kirrih named Falen.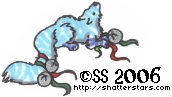 But you didn't have time to admire his icy bright fur, for you were now being introduced to the Faymaah.
"The darker brown mare is Cheer with her friend Finn, while the lighter brown mare is Hanukah with her Kirrih Miso...and I of course, am Sleighbells!" With that she gave a shudder, causing the bells around her middle to ring with a joyful tone. The other mares giggled, and you couldn't help but be caught up in the happy atmosphere of this place.
Suddenly everyone stopped chatting and grinned broadly. Sleighbells said, "Ah, there he is. Wondered when he was going to get here." Before you had a chance to ask who she was talking about, a fuzzy black stallion with a mane bounded into the clearing, the little wings on his ankles fluttering frantically, as if they would help him run faster.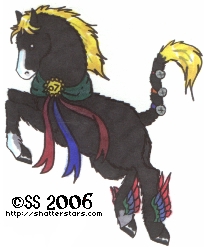 "Sorry I'm late!" he apologized to the mares. They just giggled. Then with a start he noticed you, "Oh, umm, hello there. My name is Newyear."
You introduce yourself and admire his ribbons around his neck, and the bells on his tail. Sleighbells giggles again, "He claims its not true, but I think he got the idea from me!" Again a very equine shudder rippled across her body, making the bells jingle happily. If the stallion's coat wasn't so dark, you were certain that you would have seen him blush at all the flattery. He twitched his tail back and forth so his bells added to the happy sounds of this place.