You decided to take a break and lay down on some of that soft mossy stuff and catch a quick nap. You felt fairly certain that nothing was going to eat you, and of course you ran the risk of waking up back home instead of in this magical place. But it was so quiet and nice here you decided to risk it.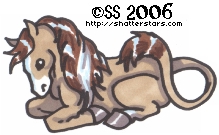 You wake up to the sight of a small, light brown mare lying on a fallen log over your head, staring down at you. She jumped up with a quiet nicker when she saw your eyes open. You tell her not to be afraid. As you reach out to touch her, something jumps away. You turn your head to see another of these small skittish equines.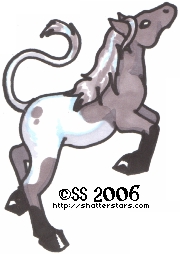 She skittered again when she saw you looking at her. Turning your head the other way, you make out the sandy coloured one who had until now watched you without being noticed herself. Now that you had glanced her way she seemed uneasy and backed up a few steps.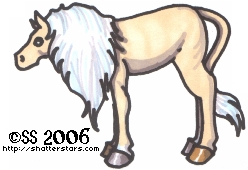 None of them had thus far actually run away, but they gathered into a clump and eyes you warily. Then their ears perked up and they looked into the forest, waiting for something to come out....
When he did he came out in a whirlwind. He raced forward, ears pinned back against his head, a golden bullet headed right for you. You jump back and he skids to a halt, the wings on his ankles flapping furiously.
.....wings?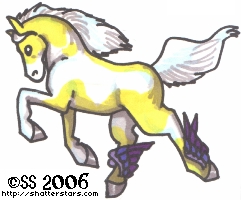 You weren't sure if they were intelligent or not, but most animals respond to gentle speach. So you talk to the stallion calmly, explaining that you had no intention of harming what was probably his mares, indicating that you just wanted to touch one of them. He didn't seem happy about that last comment, so you quickly ammended it, saying that you had no intention of doing so now.
During your little speech, the mares put their noses together and made some whuffling noises and muted nickers. The stallion listened into to their conversation with one ear and finally nodded.
"Flair," he said. Or at least you thought it was the human word flair. You had no idea what he meant by that. Then one by one the mares stepped forwards, the light brown said "Peanut", the violet grey said "Solemn" and the third mare said "Shore". You stared at them blankly for a moment, wondering if this was some kind of test and these words were clues. But you couldn't figure it out, especially with flair and solemn being such opposites.
They waited a bit, then the stallion scrapped a hoof in the moss, "We are Faymaah," and suddenly it dawned on you. Those were their names! You felt a little embarassed as you introduced yourself.
"Kit," you head a voice behind you say. You turn to see a white mare with two colourful vulpine creatures entwined about her legs. She lay downs and they crawled all over her making quiet little happy sounds.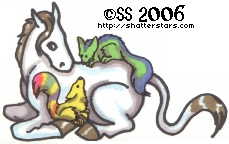 "These are my Kirrih companions," she said quietly. "Xiev and Thea".
You sit back down on the ground, and the little group of Faymaah and Kirrih move closer, but not quite within reach. You felt bad that they didn't trust you. You couldn't help but inquire about Flair's tiny wings.
He turned his head to one side and lifted a hind hoof to get a good look, almost like he didn't realize that they were there and was surprised to find them there. He flapped them experimentally. "No, I cannot fly, though sometimes they help me jump a little higher or run a little faster, but not much. All male Faymaah have wings, while the females have lion tails." The mares flick their tails around while Flair swishes his equine tail to show the difference.
Suddenly one of the Kirrih, Thea?, dropped a berry at your feet. You'd thought, that like foxes they might eat meat, but you discovered then that they were vegetarians, preferring berries. Made sense, as they live with the vegetarian Faymaah, and were so small it wasn't likely they could hunt all that effectively anyway. You thank the little creature and pick up the berry, but you don't eat it. It would have no way of knowing if it was poisonous to you.