You could have sworn it was starting to get cold. And dark. The woods had certainly taken on a much more menacing demeanor as you wandered deeper and deeper into the forest. At first you thought it might be getting dark because of the time of day, or because the trees were closer together, but it was more than that. It wasn't just visibly dark, it *felt* dark. It was closing in around you, the trees seemed to be reaching out to grab you, their roots determined to trip you, to keep you there, forever.
The darkness became suffocating, your hair now was getting caught in the long fingers of the bushes which hissed their frustration as you broke free, only it was getting harder and harder to get away. You couldn't go back, you couldn't find the way.
~Do not be afraid~
The voice was soft, gentle, and with about as much substance as a spring breeze. It belonged to a dragonfae. He glowed faintly as you approached him, and as you got closer, you realized you could see right through him.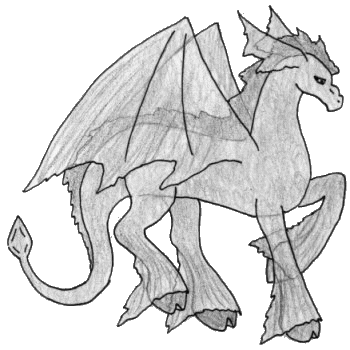 ~Do not be afraid~ he repeated. ~My name is E'lis. I cannot harm you, nor will I permit anything else to harm you. Follow me and I shall lead you to safety~
Having no choice you try to follow the stallion, which wasn't as easy as it seems. He had a tendency of fading in and out of sight, sometimes disappearing for minutes at a time. But the trees, though obviously desperate to get at you, kept their branches to themselves. The woods remained dark, but you felt you could breath.
You push through some bushes to see that E'lis had paused in a clearing, as if unsure of where to go now. You saw why, there were two males, two horrible males, challenging each other. One, a dragonfae snarled fiercely while the faequine had only blood in his thoughts.