Something had attracted your attention. You didn't know what it was but you had the urge to explore this part of the woods. You left the other Faequines behind as you pushed through the brush, ignoring the path. What you saw when you came to a clearing was a most amazing sight.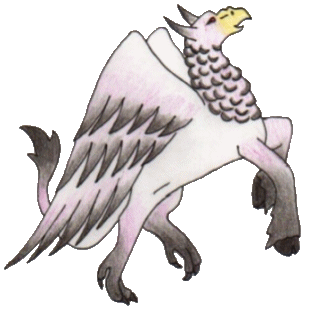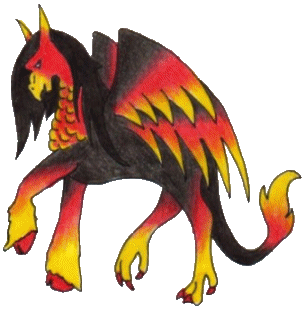 Two creatures, closely resembling Faequines were dancing together, a mare and a stallion. The stallion was white, and albino and his mate was black with flame tipped wings. It was a beautiful and magical dance. The moment was lost when they sense you watching and stopped.
"Who is there?" growled the stallion. The gentler mare came forwards to see. You come out of your hiding place and explain who you are and what you're doing there. The stallion was not pleased but the mare didn't seem to mind.
"I am Mi'phari and this is my mate Kan'zaru. We are gryphfaes." Looking at them you could see their resemblance to both gryphons and faequines. They were beautiful, noble creatures.
The sound of chattering and chirping mixed up with a few tiny growls finally could no longer be ignored. You had to see what all the fuss was about. Kan'zaru didn't seem too happy about you poking about but Mi'phari kept him under control. What you saw when you parted the bushes astounded you. There was a group of little gryphfaes!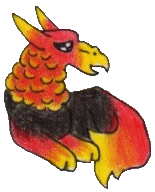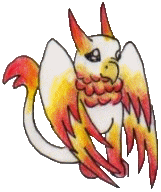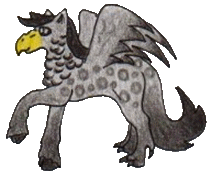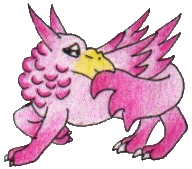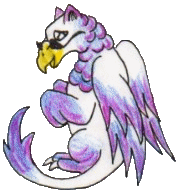 "These are our little ones," Mi'phari said in motherly tones. "Zi'favi, the grey filly and Shikon, the dude with the sunglasses came to live here after a kind of exchange. We do this to add genetic variety amongst our groups, and to give our little ones a chance to experience living with other siblings." You had to admit they were all cute and they tumbled over each other, slept, pounced and pulled on their own tails. You couldn't pick a favorite.
Shikon, the bravest of the group came up to check you out. He looked at you over the tops of his sunglasses, and then winking, strutted back towards the others. The pink Sh'kani peeked at you from behind her tail, then batted her eyelashes as Shikon walked past. He hesitated a moment then grinned at her. She giggled and hid further behind her tail.
Ji'lamu, being the other male then had to make a show of being brave and coming up close to you. He slightly spread his white fire wings and the smiled and very friendly smile. Zi'favi, not waiting for him to come back and tell her what a human was like, came up on her own to see for herself. Not particularly interested in you, with a tap of her hoof, she made Ji'lamu "It" and tore off through the brush. Soon there were little gryphfaes careening about in every direction.
The stallion rumbled something under his breath and then urged Mi'phari to come with him. She shrugged and looked at you apologetically as the pair gathered up their hatchlings, spread their wings and flew away, to disappear above the trees of the forest.
Statistics:

Name: Kan'zaru
Gender: Male
ID: 33m
Element: Gryphon
Info: Albino, large wings
Parents: Wild
Offspring: ???, Tor'Ilo, Ji'lamu, ???, ???, Sh'kani
April 2001

Name: Mi'phari
Gender: Female
ID: 32f
Element: Gryphon
Info: Black fire-tipped, mane
Parents: Wild
Offspring: ???, Tor'Ilo, Ji'lamu, ???, ???, Sh'kani
April 2001

Faequine
Agency no longer exists
Statistics:

Name:
Gender: Female
ID: gryfae57f
Info: Albino, long ears, fluffy tail
Parents: Kan'zaru and Mi'phari
Now lives HERE
April 2001

Name: Tor'Ilo
Gender: Male
ID: gryfae58m
Info: Black tipped flame, kitty paws, fluffy tail, no wings
Parents: Kan'zaru and Mi'phari
April 2001

Name: Ji'lamu
Gender: Male
ID: gryfae59m
Info: white tipped flame, kitty paws, long wings
Parents: Kan'zaru and Mi'phari
April 2001

Name: Ha'zavo
Gender: Male
ID: gryfae60m
Info: true gold type, kitty paws, floppy ears
Parents: Kan'zaru and Mi'phari
Now lives HERE
April 2001

Name: Sh'kani
Gender: Female
ID: gryfae62f
Info: pink tipped dark pink, kitty paws, fluffy tail
Parents: Kan'zaru and Mi'phari
April 2001

Name:
Gender: Female
ID: gryfae61f
Info: black tipped dark pink, kitty paws
Parents: Kan'zaru and Mi'phari
Now lives HERE
April 2001

Name: Zi'favi
Gender: Female
ID: gryfae24f
Info: Gray black tipped, kitty ears, fluffy tail, jaguar spots, mane
Parents: Enshoku & Hikyuu
April 2001

Name: Shikon (Bluish Purple)
Gender: Male
ID: gryfae72m
Info: Purple aurora tipped white, sunglasses. He's cocky, carefree, and spunky
Parents: Misora x Fujiiro
May 2001

Faequine
Agency no longer exists