You clung tightly to Silver Algae's neck. He was sleek and smooth and very slippery when wet. At the speed he was moving you knew you'd covered a great distance, and you weren't sure you'd be able to find your way back to shore on your own. Then he stopped and waited a while. Finally another aquatic equine presented itself.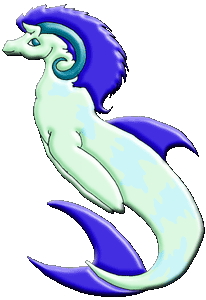 The mare made some bubbles and sent them towards Silver Algae. He responded in kind. Then the mare spoke in your mind, ~I am Swift Currents. Another denizen of this Sea. I understand that Silver Algae is to introduce many of us to you today, even those of the depths. Even I find the creatures of the depths to be unusual and strange, I am sure you will enjoy your travels here.~
With that she was gone in a flash, you could see how her name was appropriate.
Strangely, Silver Algae didn't bring you anywhere else, instead he waited here. After a while he was becoming impatient, a little while longer he was obviously getting angry and was ready to leave. Just then two more hippocampi arrived.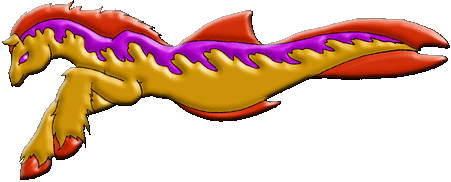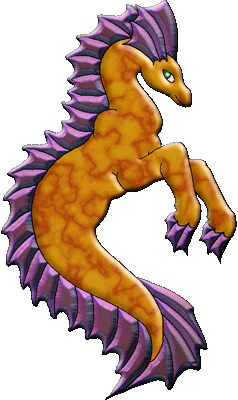 Bubbles were blown furiously between Silver Algae and the brightly coloured male that was the first of the pair to arrive. Finally the female had to physically intervene to prevent a fight. The mare turned to you.
~Please forgive our tardiness, we were delayed by a shark. We needed to shake him from our tail or risk endangering you and Silver Algae, and any others that may come here to meet you. My name is Razor Waves...~
~And I am Flaming Coral.~
Silver Algae was obviously still angry at them. Maybe he didn't believe their shark story, or thought that they could have dealt with it faster. Personally, you were more concerned that there were sharks about in these waters, and apparently were willing to eat hippocampi and even humans. You didn't feel quite as safe as you did before.
After some more heated bubble debate, the pair leave. ~I will take you to the depths now,~ the stallion said. And so, the moment you grabbed on to him, he began a long dive.