You find a secluded spot to stop, rest and just let the forest wildlife go about their business. This wildlife apparently included a lovely Feileeah mare with delicate, dainty wings! So much smaller than Leafwing, the Feileeah stallion you'd encountered earlier.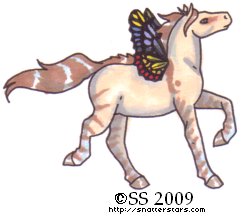 She seemed so happy, so cheerful in going about her business that you didn't want to disturb her. You heart felt warm just watching her prance between the trees, her hooves crushing the fallen needles on the ground releasing the sharp pine scent.
You follow her till she trots up to a stallion who reaches out to nuzzle her.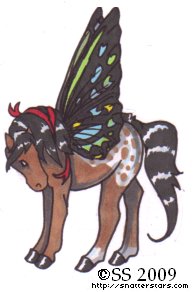 That's when your foot snaps a twig and both swivel their heads to see what made the noise...
There was a weird shimmer and both the mare and her stallion disappear and you find youself somewhere else. It was still the pine forest, the scent made that very clear, but it was also a different part of it. Or at least not the same part you were in a second ago, it could very well be a place you'd passed before, it was impossible to tell. And you were not alone, your abrupt arrival started the Faymaah stallion and he turned on you!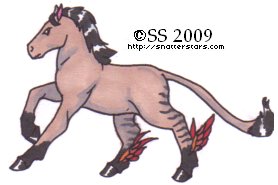 You step back hurriedly and find yourself up against a tree. The feisty stallion pined back his ears and bared his teeth. He wasn't very big, but he was still stronger and faster than you. After a moment of this standoff the stallion breath started to slow and his stance began to relax. With a gruff voice he demanded you explain yourself.
You do your best, especially since you didn't really have an explanation. He sighed, clearly the word "Human" went through his head accompanied by an eye roll. Finally he snorted and decided that you didn't intend any harm.
"My name is Devious. The Feileah pair you saw were Stainedglass and Darkcrystal. You must have stepped on a portal by mistake. You should be more careful of where you put your feet." He spoke as if exasperated with a child to whom he'd explained all this a million times before but never seemed to remember.
You heard the sound of hoofbeats on the soft earth of the forest. Turning a golden mare appeared out of the shadows. She changed her course when she saw you and Devious talking.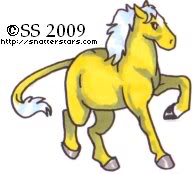 "Hello," she said in a bright voice, "My name is Sunshine." Devious didn't seem too happy that she'd come. Perhaps he didn't like her bright personality. You on the other hand liked it very much. "And this is Rosebud." Who? You look about but see no one...no wait, there was another mare there in the trees.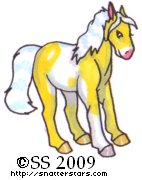 She smiled shyly, the pink tip of nose was adorable! She only came towards you when Sunshine went around behind her and nudged her forward. You chat for a while, the young mare getting used to you as time passes. You even find out that Rosebud is the filly of Flair, whom you'd met earlier.
Eventually it grew late and the others left. You decide that as it was warm and the ground soft, that you would sleep where you were. The moonlight trickled through the trees above and the wind aroused the scent of the pine forest. You weren't sure if it were a dream or not, but at some point, a dark stallion with the markings of the moon came and danced for you. He made not a sound, and a light mist had risen giving the world an ethereal atmosphere.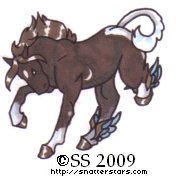 After a while you do fall asleep and the dream-dancer vanished with the night.