You continue through the still cool forest. The frost upon the ground crunched beneath your feet, and the sunlight sparkled upon the icy pine trees. Eventually you come upon a pair of sparring stallions...no, they were just playing, as one breaks out in laughter. You could hear the bells which adorned their tails jingle as they moved. And bright ribbons were tied about their necks, but you couldn't make out what was written upon them. You aproach and they stop to look at you, one still grinning about something.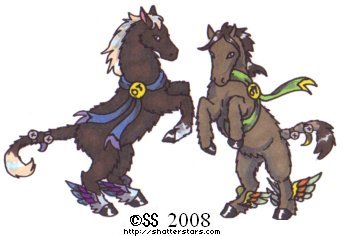 The darker one nods, but the ligther one bounds forward, "Greetings! My name is Cheer, and my friend is Resolution! Would you like to join in on our game?" Resolution's eyebrows went up at that. One had to admit, a human couldn't quite play equine stallion games, so you politely refuse and ask about the ribbons. Cheer lets you take a closer look. His said 09, while Resolutions has an 08. You ask if they matched Newyear's 07. They both nod.
After a brief chat with the stallions, you continue on your way. It wasn't long before you bump into a mare, who was less than pleased by your arrival. Back went her ears, and up went her heels!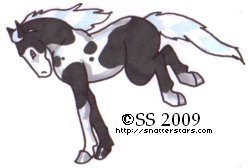 "It was an honest mistake Temper!" It was the voice of another mare. The black and white one merely snorted and turned away from you. You look about for the other.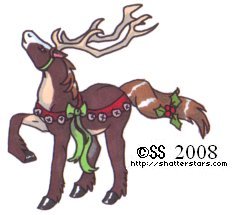 That mare had a pair of antlers attached to her head, she winked at you. "Don't worry about Temper, she has a short temper." The black mare grumbled. "My name is Reindeer, by the way. Nice to meet you!"
You were about to ask her about her name and the antlers tied to her head, but a stallion off to the side caught your attention. Or at least you figured he must be a stallion, because he had wings...but they were buttefly wings, and the were on his back and not his hind fetlocks. Reindeer noticed you weren't looking at her, and glanced over at the other equine.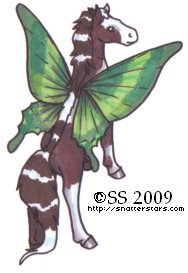 "That's Leafwing, he's a Feileeah." You ask about the wings. "No, of course not. Both the stallions and the mares have wings, but the stallion's wings are bigger. They also have their manes connected to their tails, funny no?" The mare grinned.
The silent stallion didn't seem to mind the mare's amusement, and after another glance your way, he moved off into the forest. You couldn't resist following the enigmatic creature...
It was surprisingly difficult, as his coat blended into the trunks of the trees, and his wings matched the plants, but the mare he brought you to stood out clearly in her brilliant white coat. She glanced down shyly as you approached.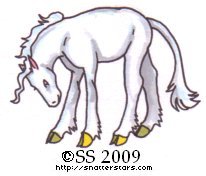 The stallion glanced back at you, "This is Purify." The mare smiled and that is when you noticed her golden hooves were cloven. You wracked your brain, trying to recall if any of the others had cloven hooves, but you were certain they had not. She noticed your attention and shyly scrapped the forest floor with a forehoof, "I'm only the second of my kind to have cloven hooves."
For some reason, talking about her hooves gave her confidence, and she raised her head and tossed her mane as an errant breeze blew it into her eyes. "Come," she said. "There are others.