At some point, you don't know when, the Loci had wandered off, leaving you to yourself. But you weren't alone for long. A silver shadow in the woods attracted your attention. A Faymaah mare!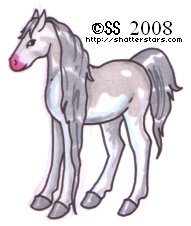 You go up to her, but from the sideways glance she gave you, you knew she wasn't perhaps the friendliest Faymaah out there. On the other hand her pink nose was simply adorable! Just then a black and white mare with a flaming mane seemed to jump out of the sky and land nearby.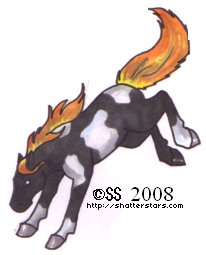 She cantered up to the white mare and nipped her gently on the shoulder, encouraging her to play. The other mare just sort of glared sulkily at the other. "Come on Mist, let's have some fun!"
"Flame, you know I don't like to get all dirty and sweaty. Find someone else to play with..." but the black mare wasn't to be denied, at least until she was given something else to focus her attention on, in this case it was you.
"Hi, I'm Flame and this spoil-sport is Mist. Glad to meet 'ya!"
That's when you felt a soft snuffling on your arm. You turned to look down at a small brown mare gazing at you with wide wondering eyes. She was so cute you wanted to hug her.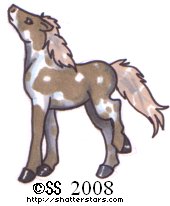 "Her name is Curiosity, but we usually call her 'curiosity killed the cat', or in this case, the Faymaah. She's eternally getting herself into trouble!" The little mare said nothing, but if equines could blush, she would be blushing right now. You pat her and she smiles back at you.
"Stop where you are!" Flame cried out. Everyone looked up at the light gold mare trying to sneak by without being noticed. She froze in place, and that was when you noticed the blue streak in her mane, very unusual, like Flame's mane and tail.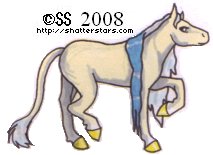 It looked almost comical, but you refrained from laughing. The mare looked sheepishly at Flame then trotted on over. Apparently Flame was a little overwhelming for most. "Hi, I'm Rivulet. My parents told me about you." It turned out her parents were Flair and Shore, some of the first Faymaah you'd encountered here.
Before Flame could go after Rivulet for being a spoil-sport a white stallion cantered by. You still couldn't get over the delicate wings on his ankles, it was such a strange but magical thing.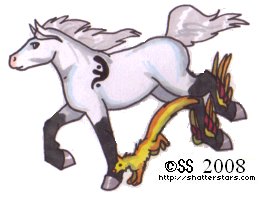 He changed course, gracefully threading between the trees and leaping over fallen logs and brush. The brightly coloured Kirrih female had no trouble matching him stride for leap. The pair slowed and you could hear the puffing of his breath. He bowed his head, "Greetings human, I am Rune." You could tell he was polite, calm, but also a little proud maybe bordering on arrogant.
"And I am Cantaloupe." The voice came from your right, turing you see a mare sitting beneath the pine trees, another Kirrih at her feet.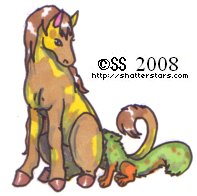 This one chittered and the mare laughed, "Oh yes, and this is Twik. Rune's companion is Phloe." The yellow Kirrih had hopped up on the stallion's back and nodded her approval at the introduction. Then she leapt off and raced after the green male.