The Hidden Mountain Pass

POUNCE
From underneath golden paws you stare up at the grinning face of a feline with wings. It wasn't a snow cat, they had disappeared while you slept.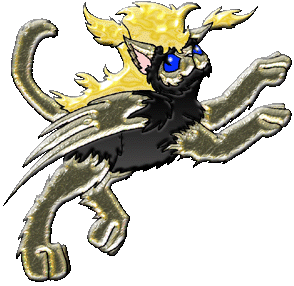 There was some laughter and kitten giggles, so you turn your head from side to side to see the two other cats.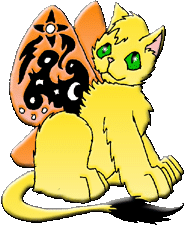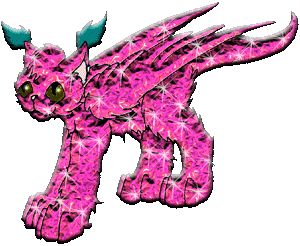 The one on top of you growled deep in his throat, and licked his lips, without ever losing that silly grin. The other two beamed even more as you looked worriedly at the pair of sharp fangs between those furry lips. You gasp as you feel the tips of his claws bitting into your shoulders. Granted, he wasn't all that big...but he was big enough.
In a flash the was a loud growl, and the sparkling pink one was rolling on the ground all tangled up with your captor. The butterflied winged one just blinked at you sweetly and purred. It didn't take long for you to realized why she wasn't frightened by the fight, it was because they weren't fighting at all. With a playful swat, the pink female jumped up and began cleaning her paws.
The dark male shook himself and began to do the same. Both paused. Both looked at the cute little yellow one. Green eyes opened wide, and without warning, she dashed for the trees, the other two hot in pursuit, the pink female taking to the air while the dark male remained on the ground.
She didn't make it. Hidden in the bushes was a moss green cat waiting in ambush. She tackled the yellow female. The pink one tackeld the green one, the male landed on a tree branch to watch the events unfolding below.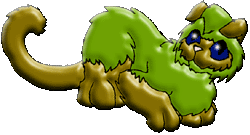 Then they all stopped and looked at what came forth from the shadows of the trees.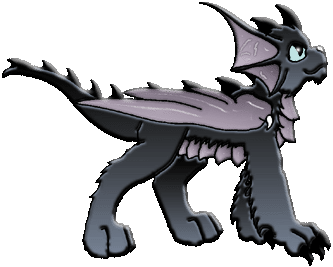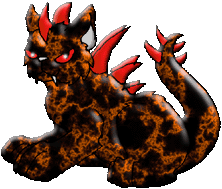 They looked like the other cats, and yet not. The male was covered in spikes and fins. He moved arrogantly into the clearing, obviously commanding respect of everyone present, including yourself. He grinned, exposing fang. The female was equally frightening with her fiery-coloured fur and spikes on her back, though she took little notice of you.
The black male crouched down, bottom wiggling in the air in a most cat-like way, and pounced after the others. They scattered into the woods with the other two in close pursuit. It looked like play, you hoped it was.
You waited a while, but obviously you weren't interesting enough. They didn't come back.
You found that the pass branched in two directions. You could go either way.
PATH 1

PATH 2
Statistics:


Name: Dark Gold
Gender: Male
Parents: Wild
Mate: None
Offspring: None
March 2002


Name: Spark
Gender: Female
Parents: Wild
Mate: None
Offspring: None
March 2002


Name: Buttersoft
Gender: Female
Parents: Wild
Mate: None
Offspring: None
March 2002


Name: Moss
Gender: Female
Parents: Wild
Mate: None
Offspring: None
October 2003



Name: Brimstone
Gender: Female
Parents: Wild
Mate: Shadow
Offspring: Hellfire
Note: Halloween
November 2003



Name: Shadow
Gender: Male
Parents: Wild
Mate: Brimstone
Offspring: Hellfire
Note: Mutant
October 2003


The EverRealm