The Hidden Mountain Pass

The was the slightest hint of movement, something glittering amongst the trees, but by the time your eyes found the spot it was gone....no...it was just somewhere else. A Hunter Cat. A graceful female, curious about you but cautious at the same time.
Eventually her fear won over her curiosity and she disappeared into a small opening between some rocks. Curious yourself you look inside but it was too dark to see where it went, and too small for you to squeeze in. Turning around you find yourself the object of attention of another. He has come right up close, and looked up at you with admiring, and unfearful eyes. He even seemed to be smiling. So cute he was that you reached out your hand to pet him.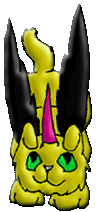 Apparently he was still a wild animal, or at the very least, not an animal that belonged to you. He swatted at you warningly and hopped backwards, but didn't leave. He still had that smile on his face, and his eyes were still big and interested. Look but not touch.
You looked at each other for a while. Every now and then he'd tip his head to one side, or make a soft growling meow, as if asking you a question. You talk to him a bit too, and he seemed to try very hard to understand your words. So intent were you on each other, it took a while for the blue female to be noticed.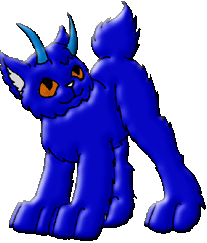 She too smiled up at you. A soft "purrup" came from her throat, then she wandered over to sniff the male. He was equally interested to see where she had been. Satisfied with their recognition of each other, they gave you a final glance, and then disappear down the same hole.
Once again you look down it, but see nothing but darkness. You wondered if this was where they slept, or was it a passageway to some other part of the Realm. As you pondered this, a pair of burning red eyes appeared in the dark. As they came closer, they transformed into another hunter cat.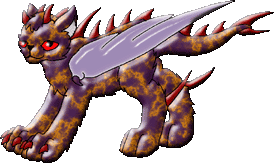 This one was of an unpleasant disposition, but overall had little interest in humans and found no reason to change that opinion now. She did however hiss at another hunter cat approaching from the other direction. That one stopped with a look of confusion on its face. She then crouched down as the other female remained aggressive.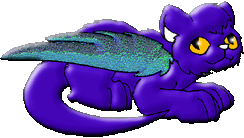 You thought you might have to intervene to rescue the gentler female, but it wasn't necessary. A second hunter cat with similar colours appeared. When the saw the spiked female he stopped and hissed. She glared at him a moment, washed a paw and slipped back down the hole. She wasn't about to take on two at a time.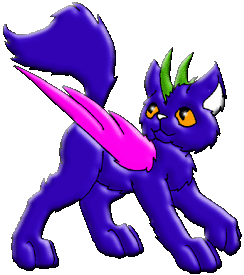 You half expected the matching pair to follow the other one down the hole, it was where all the others had gone, but they went back the way they came. You followed them, but quickly lost sight of them.
Statistics:


Name: Glitter
Gender: Female
Parents: Wild
Mate: None
Offspring: None
October 2003


Name: Pyrite
Gender: Male
Parents: Wild
Mate: None
Offspring: None
August 2004



Name: Blueberry
Gender: Female
Parents: Wild
Mate: None
Offspring: None
August 2004



Name: Hellfire
Gender: Female
Parents: Shadow x Brimstone
Mate: Rogue
Offspring: None
October 2004



Name: Violet
Gender: Female
Parents: Wild
Mate: None
Offspring: None
October 2004



Name: Aura
Gender: Male
Parents: Wild
Mate: None
Offspring: None
October 2004


The EverRealm