The Hidden Mountain Pass

You stop to rest by a deep, dark pool of water. You couldn't see very far into its depths, but it looked like a welcomed relief to the hot sun. But when you splashed some of the liquid onto your face, it was warm rather than cool. You sigh and satisfy yourself by sitting beneath the shade of a tree.
Within a short time a green, hooved feline approached the pool. It brought its nose almost to the surface, but didn't drink. Instead it made a mewling/growling sound you couldn't quite describe and was certainly not something you'd ever heard a cat make before.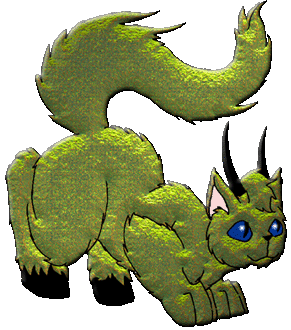 It appeared to be calling to something beneath the water. The violet glow you at first disregarded as reflections from the nearby flowers grew as the creature rose to the surface.
It was an aquatic feline with a mane of fire. It had the double benefit of both warming what would otherwise be a small chilly mountain lake, and giving her light in its darkest depths. She floated nearby, never quite breaking through the surface.
The wind changed and brought your scent to the first feline. She turned her head towards you in surprise, then grinned. "Spying?" she giggled. "Well, my name is Sorax. You can come closer if you like. I won't bite."
In the water, the other feline swished her tail slightly but didn't respond. Then with a flick of her tail, she splattered you as she dove back down. But in your mind you heard her voice, ~My name is Azura, and I am a feline Whorling.~
You began to apologize to Sorax for scaring her friend away but she shook her head. "Azura is just shy. I'm also a Whorling if you were wondering."
A loud cry from above startled the both of you. You glance upwards, then throw your arms over your head. You feel a rush of wind and a brush of feathers as the green from flies close.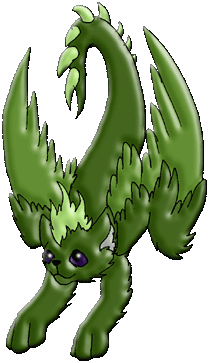 She laughs, the settles on a nearby tree. From the branches she calls out, "Hello there Sorax!" Sorax sighs, rolls her eyes and says to you, "That is N'bote. Unlike Azura, she is NOT shy." The green feline chuckles.
"And fortunately I am neither shy, nor offensive. Just somewhere in-between. Greetings human, I am Merk."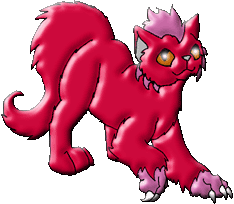 Merk turned out to be a male feline whorling. Though you could recognize that cat in all of them, each one of them had something that made them different, magical...something that could only live in a fantastical realm. You wondered what they would have thought of your world, with flying machines and boxes that showed moving pictures. Would probably be just as strange to them as creatures here were to you.
You wander off. A short way along you find a fork in the path. It seemed that you could hear water along the first path. You couldn't guess where the second was to take you as it curved around a bend.
PATH 1

PATH 2
Statistics:


Name: Azura
Gender: Female
Fusion parents: Kaylon x Nafell
June 2003


Name: Sorax
Gender: Female
Parents: Wild
June 2003



Name: N'bote
Gender: Female
Parents: Wild
November 2004



Name: Merk
Gender: Male
Parents: Wild
November 2004


The EverRealm