You nearly trip over the sleeping mare. She looked so cute with her long floppy ears trailing along the ground. And if you listened carefully, you could hear her soft snores. You wanted to reach out and touch her, she looked so soft and silken. As your hand almost touches the warm golden coat, you hear a sound behind you. You spin around, and place your hands behind your back. Play innocent....uh huh.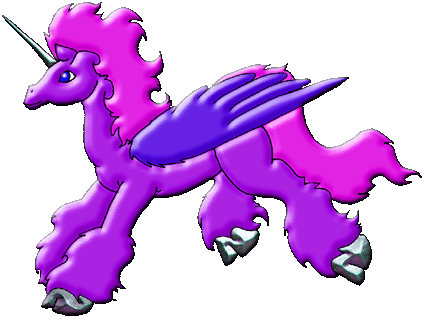 ~She's sleeping~ the telepathic mare noted in your mind, as if you couldn't tell. Then she grinned. ~That's Savelle and I'm Whysp, we're both Whorlings. You can go ahead and touch her if you like, a hurricane could blow through here and she wouldn't notice.~
You shake your head, it was kind of silly and it seemed kind of wrong to touch her without her knowing it.
~Really, she won't mind. But if you'd rather, you could pet me." Her purple fur looked coarse and nowhere near as silken as Savelle's, but you didn't want to insult her, so you patted her anyway. It wasn't as rough as it looked. ~And Savelle isn't as soft as she seems.~
You start, realizing she'd been able to read you mind all along. She was laughing and you grumbled to yourself, walking away from the mocking whorling.
"Hmph!"
The brown stallion had seen everything and and was frowning in Whysp's direction. "She knows better than to do that to non-telepathic creatures, it puts the on edge and invades their privacy. Then again, that is exactly why she does it. My name is Bruusk, and I will ensure that she will bother you no more."
Although Bruusk was good to his word, you were still in a pretty foul mood when you encountered the strange stallion. He had an extra set of legs... and were those antenae he was waving about as you approached?
He back off, afraid. He lowers itself closer to the ground and tries to slink away without getting noticed. You apologize for your bad mood and ask it not to leave, obviously those antennae were picking up on your mood. You try to push Whysp our of your mind. He pauses slightly. "You mean Whysp...the telepathic one. Yes, she can be quite cruel without drawing a drop of blood." As an afterthought he adds, "I am N'tikan."
Glad to find pleasant company, you got ready to travel with the equine, but you got too close for comfort and N'tkian disappeared into the tropical haze the first chance he got.