You were suprised to find a kind of clearing in the middle of the jungle. There was actually direct sunglight coming down through the opening in the overhead foliage. And it was through this opening that a green equine descended to the floor from the tree tops.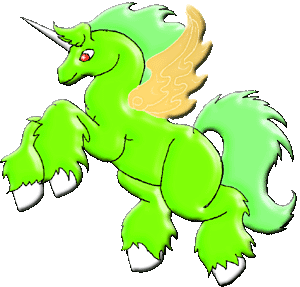 There she joined another standing on the edge of a large river. The first turned out to be a mare, the second her stallion mate. While she was a delicate creature of the air, he was obviously a creature of the water, fins were attached to his hindquarters and tail. His eyes glowed as she landed softly beside him.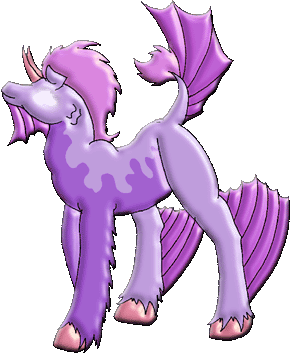 They nuzzled each other in the warm sunlight, basking in their reunion. They had yet to notice you hidding in the trees, and you leave before they do.
A short walk brings you to another winged equine, this one turned out to be a friendly mare called Czever. The tiny bat wings upon her back were obviously not meant for flight.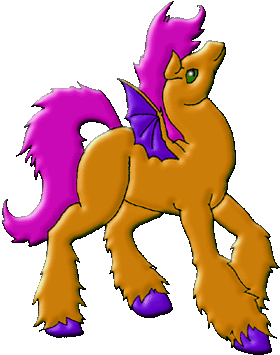 "Aren't they such a sweet couple? I guess it's true that opposites attract. I hope I meet the stallion of my dreams one day." She then began to question you about your mate of your dreams, including tail colour and hoof shape. She didn't even seem to notice that you hadn't replied to those questions, too busy imagining her own perfect companion.
Leaving the love-struck mare to her fantasies, you decide you want to investigate the river more. It was very wide, and the water was very fast moving, but it looked clear, and it seemed to you that you should be able to see into it. As you pushed your way through some tangled vines, a mare leapt up in front of you with a disgruntled shriek.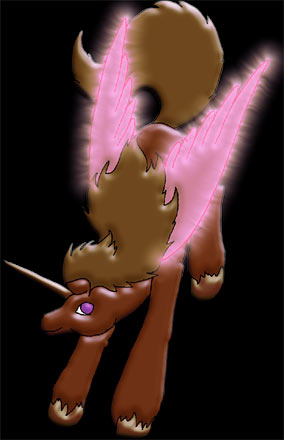 I you had been a cat, you would have just lost one of your nine lives. With a buck and a flick of her tail, she spread her wings and flew up through the foliage. You in turn lean against a tree and try to catch your breath.