You were quite eager to meet the other Serians living here for they were the offspring of the Circle of the Dragon's Flame. Umbra had mated with both Mischief and Arrow and had three foals. You were sure they would be beautiful. And so they were. You found gentle mare named Shadow Trick first.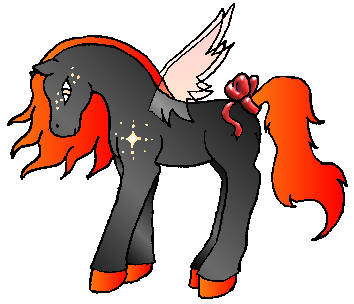 "Greetings traveller, I hope your journey has not been a difficult one. And this is my brother Silver Fox."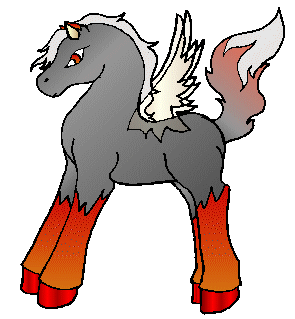 He puffed himself up as Firecracker brought you closer. He probably just wanted to show off. You noticed then his tail. "Yes, he inherited that from our sire, Mischief. Our wings are from our dam Umbra." They were very beautiful delicate wings, and transparent giving them a fairy-like appearance. And with a flick of his tail and a glint in his eye, you knew that Silver Fox also lived up to his father's name. You suspected that Shadow Trick wasn't opposed to a good prank now and then either.
"And this is my half-brother, Dark Arrow. We share a dam, but our sires are different." He was a striking stallion, one who seemed have no nonsense about him. He was however polite and bowed nobly before you.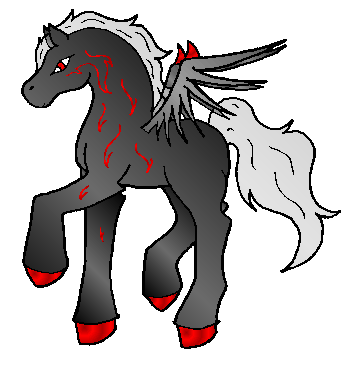 "It is an honour to meet you human. I have heard much of your kind and I am glad to see that you are not like the stories at all." This of course left you wondering what exactly it was that he had heard. It didn't sound very good.
You could see that they were all kind of nervous to have you about, what with them all being so young and all. They wanted to trust you but obviously humans must be the equivalent of the boogeyman in fantasy worlds so they weren't that sure you didn't mean them any harm. Only Firecracker had given them the courage to speak to you in the first place. Dark Arrow was kind of the honorary leader and took a protective stance before the others, not hostile, but letting you know he wasn't going to let you get away with anything.
You knew it was time to leave them in peace. You told them that one day you hoped neither species would have to fear the other. They replied that they would very much like this too.