The Caves


Inside the next cave you find yourself knee-deep in a kind of sludge. There was a lot of greenery and it was very humid. There were even insects buzzing about. You were in a swamp. A very wet and humid swamp. There was a bit of a splashing sound to your right and you amazed to see a small blue reptilian creature hop up onto a fallen log.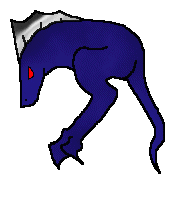 "I am Rival," he hissed. "I am a Ritaeri, a mix of shark and armless raptors, though some of my kind have wings. He cocks his head to one side and a much more pleasant expression crosses his face. "I don't suppose you have any watermelon, do you? We can be trained to be carnivores but I much prefer fruits and berries.....and watermelon."
He sighs when you say no. "I didn't expect so."
Just then, a blue blue flashes by. The blur soon stops in the form of another Ritaeri, this one sliding around on the slippery leaves on his back. He makes a kind of chip which seemed to be a a kind of laugh, then gets up.
'Hi, I'm Ruiol. Have any watermelon?"
Rival snickers and Ruiol glares at him. "WHAT?!"
Rival starts laughing and replies, "The human doesn't have any. Did you think I hadn't already asked?"
"Oh, right. Well, its always good to make doubly sure." Ruiol grins. "Or we could make triply sure!"
You look where Ruiol was indicating and you saw another Ritaer coming in. This one carried a ball in his mouth, his feet making little sucking noise in the mud as he trotted along.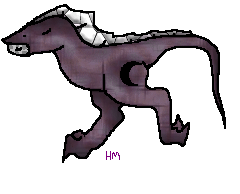 He stops nearby and looks at you curiously. Rival laughs, "That's Raven Eyes. He doesn't talk much. See that symbol on his leg, that means he came from the Harvest Moon clutch, thinks it makes him special, but that's not why he doesn't talk. Probably because he always has that stupid ball in his mouth. Makes it hard to speak."
Raven Eyes lives up to his name as he glares at the other Ritaer. But the taunts couldn't bring him to spit out the ball and say anything. So he just trots off, mud squelching as he goes by.

Stats
Name: Rival
Gender: Male
Color: Blue
Clutch: #11
Parents: Wild
Pack: None
August 2000


Stats
Name: Ruiol
Gender: Male
Color: Mix(black/green/blue/teal)
Clutch #15
ID #65
Parents: Wild
Pack: None
September 2000


Stats
Name: Raven Eyes
Gender: Male
Color: Grey
Clutch #19
ID #89
Parents: Wild - Harvest Moon
Pack: None
October 2000


Ritaer Valley
Buttons and background from Kat's Meow