The Unicorn Herd

In the events that followed, you couldn't be sure if you were awake, or if you were still dreaming within a dream. After all, unicorns weren't real right? But it felt so real, it was hard to deny that maybe, just maybe, the Realm really did exist, and there was indeed and Island in the sea where these beautiful creatures played.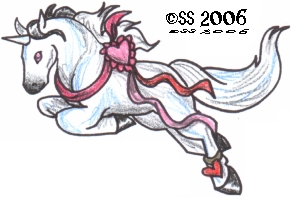 Coraen'kik was a small energetic stallion with a big heart, and I'm not talking about the one tied around his neck, he was a really gentle guy when you could get him to stay still long enough to get to know him. His favorite pastime was to bound through the dunes that populated this part of the beach.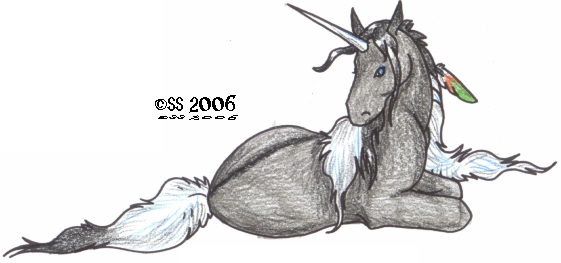 Oiche'epon was his opposite in many ways. Calm, quiet and introspective, but her heart was no less kind as she lay in the shade of the trees, that came up to the edge of the beach, watching the small stallion with amusement.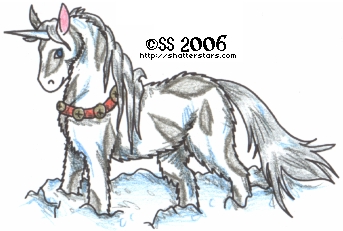 Kim'zteky was a fuzzy and she was cuddly. She preferred the snow to the sand, and given the strange weather patterns on the Island here it seemed that winter could come at any moment, only to be chased away by the hot winds of summer. The Island was a place where everyone could find what they loved best...must admit magic is a pretty nice thing!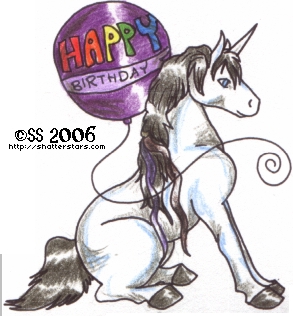 Last but not least, there was a mare named Aero'lo'ivo. Where she could have found a balloon on this Island, you didn't know. Perhaps that's where all the lost balloons of the human world go, and why they are never found again, they float off to places like the Realm where they never lose their lift and float about forevermore.


Stats:
Name: Coraen'kik [Valentine Dance]
ID: 852
Gender: Stallion
Parents: Wild
Birth Band: None
Band: None
Offspring: None
July 2010
Name: Oiche'epon [Silent Sea]
ID: 859
Gender: Mare
Parents: A x C
Birth Band: Y^zin'Ar
Band: None
Offspring: None
July 2010
Name: Kim'zteky [Upon Snow]
ID: 911
Gender: Mare
Parents: 544 x 569
Birth Band: Sunia'to'zuy
Band: None
Offspring: None
July 2010
Name: Aero'lo'ivo [Up And Away]
ID: 952
Gender: Mare
Parents: Wild
Birth Band: None
Band: Zena'ash
Offspring: None
July 2010
The Valley Adoptions
---
Please ask permission before using anything on this page
Text © SunBlind
Unicorn images © the original creator - follow the links provided above to ask permission to use them.

Background from unknown source