The Unicorn Herd

It was getting late, the sun was beginning to set over the horizon, casting a bloody glow upon the ocean's surface. The breeze cooled and even the sea seemed to quiet as the night descended. This wasn't the first night you'd spent here, but a shiver went up your side. Turning towards the forest you tried to see if there was something hidden in the trees, watching you....there! Something white had just moved, fading into the shadows. You stared until it appeared again, moving towards you.
As it stepped out onto the beach, you realized it was a Crystal, but with fangs and a black cloak. You step back. A vampiric unicorn? Perhaps it wasn't a crazy thought, you'd had that dream about the ghostly ones after all.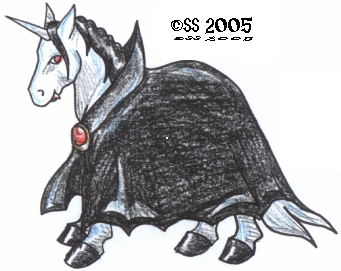 The small stallion continued to approach, and you continued to step back, till the sea was lapping against your heels. The stallion grinned, his lips pulling back from those sharp teeth, there was nowhere to hide, you couldn't outrun his fleet hooves...then a gentle feminine voice said, "Stop teasing the human Cayzi'da".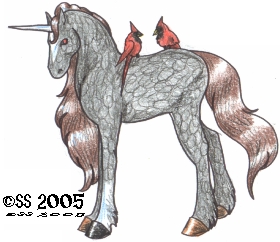 You turned to see a gray mare, difficult to make out in the moonlight, two bright red cardinals had settled upon her back. The stallion sighed, "Fali'klae, you just don't know how to have any fun!" He laughed, "At least my costume was convincing!" A costume? You felt pretty silly.
"What's going on our here? I was having a snack before going to bed and I heard voices and laughter..."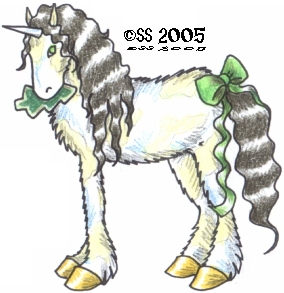 A cream coloured stallion appeared, nibbling on a cookie that was shaped like a Christmas tree. "Hi, I'm Lihah'bonni," he managed to say between mouthfuls. When he asked again what was going on, Cayzi'da chuckled and Fali'klae gave a disapproving glanced towards the white stallion. But before anyone could give an answer, a pair of Crystals raced out onto the beach, something strung out between them.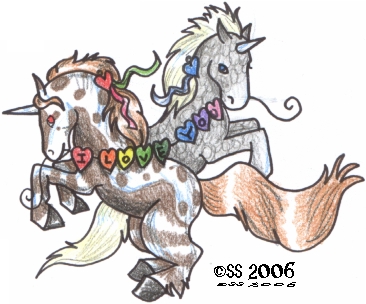 They twisted and danced across the sand, at last stopping neaby in a graceful pose. The moonlight was just strong enough for you to be able to read the letters on the little hearts strung on a string. It said, I Love You. The pair then cantered off into the night, at which point you realized the others had disappeared as well. This was a strange and magical land, and it never ceased to surprise you.
Taking advantage of the fact that you were now finally alone, you find a soft spot to settle down by the edge of the woods and fall asleep.


Stats:
Name: Cayzi'da [Moonlit Mane]
ID: 712
Gender: Stallion
Parents: Wild
Birth Band: None
Band: None
Offspring: None
July 2010
Name: Fali'klae [Winter Kiss]
ID: 737
Gender: Mare
Parents: Wild
Birth Band: None
Band: None
Offspring: None
July 2010
Name: Lihah'bonni [Christmas Cookie]
ID: 746
Gender: Stallion
Parents: Wild
Birth Band: None
Band: None
Offspring: None
July 2010
Name: Ma'halh [Heart Candy]
ID: 824
Gender: Mare
Parents: Wild
Birth Band: None
Band: None
Offspring: None
July 2010
Name: Kik'tah'oige [Dance with Love]
ID: 825
Gender: Stallion
Parents: Wild
Birth Band: None
Band: None
Offspring: None
July 2010
The Valley Adoptions
---
Please ask permission before using anything on this page
Text © SunBlind
Unicorn images © the original creator - follow the links provided above to ask permission to use them.

Background from unknown source