The Unicorn Herd

Night had fallen and you were still on the edge of the beach. You get up to stretch your legs a bit and wander about the cooling sand. The breeze off the ocean was tinged with salt but it was still warm enough that you didn't get chilled. You decide that as it was a moonless night you would sleep beneath the stars with the sound of the sea to lull you to sleep.
At some point you wake up, but you don't know why. Sitting up, you brush sand out of your hair and look around. The moon had risen, and it caused the white unicorn to glow silver in the darkness. The stallion raises his head in surprise at your presence on the beach, then approaches.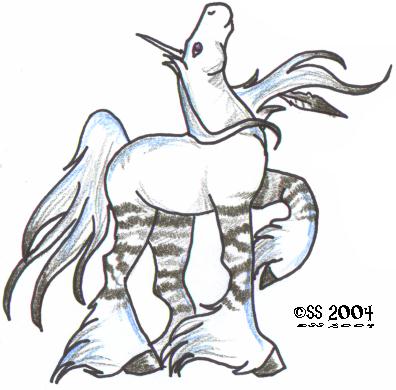 "Greetings, I am Turne'Celi. I wasn't expecting anyone to be here, least of all a human traveller." You introduce yourselves and chat a bit, and soon the conversation turns to the four unicorns you encountered earlier. "Ah," the stallion nods. "Those four are some of our elders. All of them left our homeland to wander to other lands, only later finding their way here. But unicorns are not great wanderers on the whole. Though we often leave our homeland, we prefer to find a new home only once. But that is not always possible, and we must move again to find another place. I myself once lived in another land and had to find my way here. There are quite a few of us who've managed to work our way to the Realm. Hiu'gal is another, who arrived around the time I did..."
He nods his head into the darkness where you could see nothing. But then a shadow separated itself from the night, and a swish of white mane and tail framed the small black stallion. He comes forward into the moonlight where you could see him better.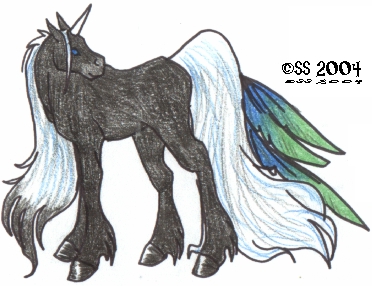 But that was not the last stallion you were to meet that night that had travelled from another land. A white stallion with strange green leaf markings upon his coat wandered over to join you. His name was Emerlanna and the three stallions had developped a strong bond of friendship, being newcomers here and not knowing anyone else.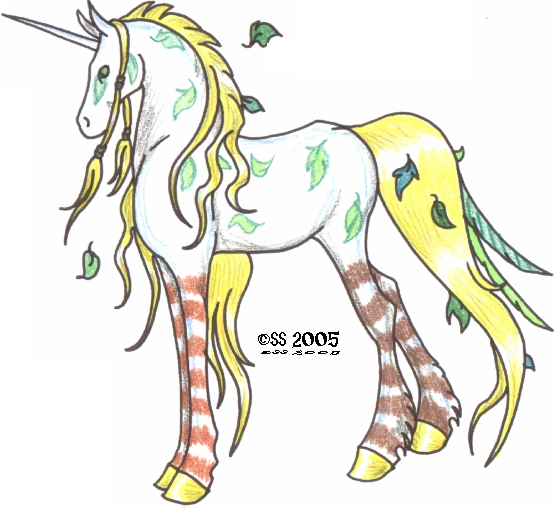 As morning approached, you were still be regaled by stories of other Realms and the strange things the stallions had encountered on their journeys here. It was funny to watch the surprise on each other's faces as they heard new stories, for they had not been in the Realm very long and still didn't know everything about each other.
Then the voice of another stallion said, "May I join you?"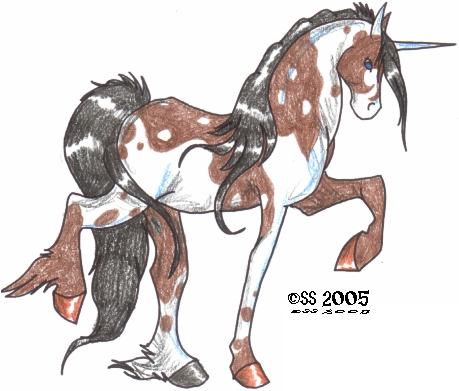 The brown stallion with the proud neck stood some distance away, a little shy perhaps. Of course he was welcomed to join and there were introductions all around. His name turned out to be Biire'Sunimect and he too had travelled here. Though he'd been in the Realm for some time, he hadn't come forward to make many friends as of yet. He had overheard the conversation and realized here he would find others that would understand the hardships of leaving ones home to find another. He was quite curious to hear more about the four elders, but it was clear that he would still need more time before he gathered up the courage to meet with them in person.


Stats:
Name: Turne'Celi [Coal Dust]
ID: 289
Gender: Stallion
Parents: Wild
Birth Band: None
Band: None
Offspring: None
July 2010
Name: Hiu'gal [By Grace]
ID: 337
Gender: Stallion
Parents: Wild
Birth Band: Wild
Band: None
Offspring: None
July 2010
Name: Emerlanna [Greenleaf]
ID: 417
Gender: Stallion
Parents: Wild
Birth Band: None
Band: None
Offspring: None
July 2010
Name: Biire'Sunimect [Tricky Sunshine]
ID: 482
Gender: Stallion
Parents: 294 x 361
Birth Band: Warhmt'devna
Band: None
Offspring: None
July 2010
The Valley Adoptions
---
Please ask permission before using anything on this page
Text © SunBlind
Unicorn images © the original creator - follow the links provided above to ask permission to use them.

Background from unknown source