From the bleak and darkened landscape, one shadow separated itself from the others. It moved with unnatural grace and eerie silence, and the world around it seemed to hush as it passed through.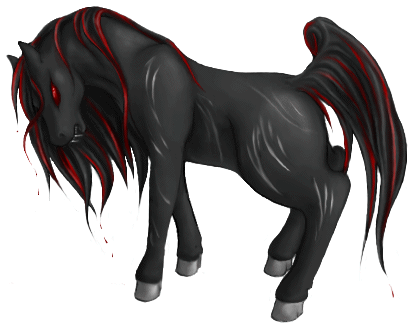 It had the form of an equine, but the fangs of a vampire. Malicious red eyes gleemed beneath a thick, blood streaked mane. Faint wisps of grey, like spiderwebs, streaked his black coat. The stallion turned to glance at the intruder in his realm, lips parting in a terrifying grin. He was handsome, elegant, and deadly.
But it appeared, that for now, your fear of him was satifying enough, his hunger sated. And as soon as he had returned to the shadows from whence he came, you quickly left this place before his thoughts turned to bloody pleasures.