The Winged Ones

Here live the Fairy Unicorns. Small, delicate, white unicorns with colourful pixie wings. Terribly friendly and cheerful creatures they are. Always full of energy, they flit about so quickly that they seem to be in more than one place at a time. And even though there were only four of them, you'd think there were many many more, just because they always seemed to be where you were.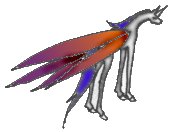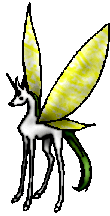 The first was called Cornflower, the second was Dandelion. SunBlind named them after flowers for they loved flowers as much as any fairy would, wildflowers being their favorites.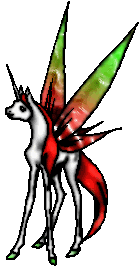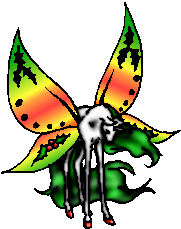 Ivy and Holly were so named because they were born at the time of the Yuletide.
They had the tiniest hooves that seemed to dance across petals without leaving a mark. Horns so small one could barely noticed them. But their bright shimmering wings could never be missed, except when in flight, when they beat so quickly they looked like a glittering blur of shining colour.

Stats
Name: Cornflower
Gender: Stallion
ID: 14
September 2002

Name: Dandelion
Gender: Mare
ID: y
September 2002

Name: Ivy
Gender: Mare
ID: a
January 2003

Name: Holly
Gender: Stallion
ID: a
January 2003





---
Please ask permission before using anything on this page