The Hidden Mountain Pass

You were not surprised when you came across another group of hunter cats. The first one came running right up to you, obviously intrigued by your presence. It was an extremely friendly creature, and began purring and rubbing up against your leg immediately.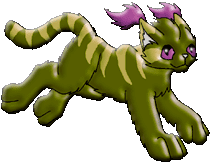 You reached down to scratch behind his ears. This his enjoyed a great deal. Of course, others then began to gather, not wanting to be left out of all this attention. A purple female with iridescent wings turned out to be the most demanding of the group.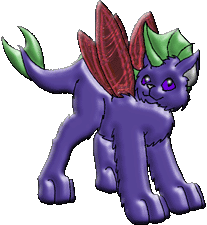 She made it difficult for you to pet her, she never stopped moving and you had to be careful because the fin down her back was actually quite sharp. She eventually gave up on your awkward attempts to pet her and sulked off somewhere. This gave a red male a chance to get some attention for himself.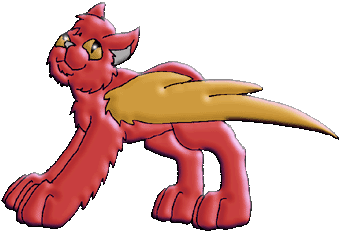 He stared up at you with adoring eyes, just begging to have a tummy rub. He rolled over onto his back to allow you to do it. You did so with some trepidation for you weren't sure you liked putting your hand between all four of those well clawed paws. Another male lay down nearby, patiently waiting his turn. You almost laughed at his..."hairdo".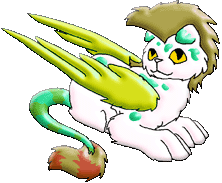 As you ran your fingers through the soft tuft of fur on his head, you noticed another female sitting with her back to you. She seemed to want to have nothing to do with all this nonsense. You move closer to stroke her head, but just as you almost touched her soft coat, a low growl rumbled from her throat. Quickly you pull back.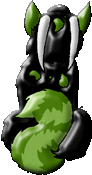 That was fine as far as the spotted green male was concerned. It meant more attention for him. Again you had to be careful of the spikes along his back, but he seemed to most enjoy being scratched under his chin. He began to purr so forcefully his entire body began to vibrate with his pleasure.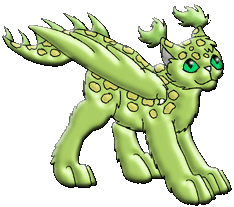 And then like so many others you'd met before them, they all simply vanished.
Statistics:


Name: Cucumber
Gender: Male
Parents: Wild
Mate: None
Offspring: None
October 2004


Name: Dragonfly
Gender: Female
Parents: Wild
Mate: None
Offspring: None
October 2004



Name: Flower
Gender: Male
Parents: Wild
Mate: None
Offspring: None
October 2004



Name: Elvis
Gender: Male
Parents: Wild
Mate: None
Offspring: None
October 2004



Name: Jade
Gender: Female
Parents: Wild
Mate: None
Offspring: None
October 2004



Name: Leopard
Gender: Male
Parents: Wild
Mate: None
Offspring: None
October 2004


The EverRealm