The Hidden Mountain Pass

You decide to veer from the path and climb a part of the mountain face. There were many hand holds and the rock didn't crumble beneath your hands. As you climbed you felt a kind of exhilaration that you could do anything, maybe even fly.
That euphoric feeling faded as the top of the mountain wall seemed as far from you as when you started. Your arms ached and when you looked down briefly, you saw that the ground was much farther than you would have liked.
The rock began to change near the top. It was studded with glittering things and the stones became sharper, cutting into your hands. As you clung to the side, the wind trying to peel you right off, you muse that the rock was quite pretty with all those colourful crystal embedded in it and that you were glad to have lived long enough to see it.
By some miracle you found the reserve of strength you need to pull yourself over the top. Lying on the plateau, you could look down the other side to see a wonderous sight. The entire valley was made of precious stones. It glittered and sparkled in a million rainbow colours. Even the trees seemed to have some kind of gem like qualities to them.
And so did the hunter cats. There was a group of them below all sparkling in the afternoon sun.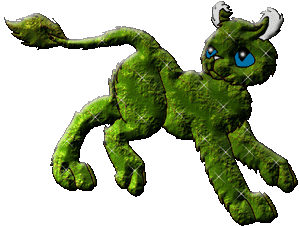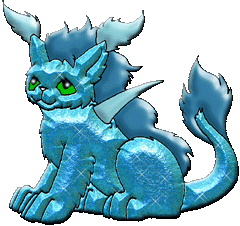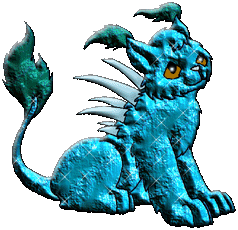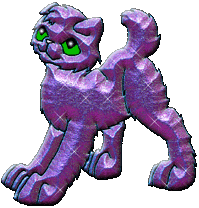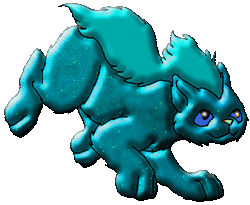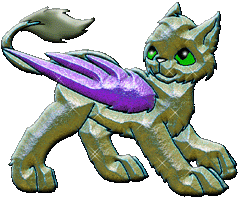 You stared at their wonderous shimmering coats. You'd seen some pretty unusual hunter cats thus far, but never such a group as this. They behaved like the other cats though, runnning and pouncing and racing each other around the gemstone rocks that made up their valley. They didn't seem to be aware of their unique environment, but then they'd probably lived there their entire lives. You wondered if they'd find the rest of the world boring, or would they be as amazed at your world as you are at theirs.
Statistics:


Name: Emerald
Gender: Male
Parents: Wild
Mate: None
Offspring: None
May 2005


Name: Quartz
Gender: Male
Parents: Wild
Mate: None
Offspring: None
May 2005


Name: Beryl
Gender: Female
Parents: Wild
Mate: None
Offspring: None
May 2005


Name: Amethyst
Gender: Female
Parents: Wild
Mate: None
Offspring: None
May 2005


Name: Azurite
Gender: Male
Parents: Wild
Mate: None
Offspring: None
May 2005


Name: Zinc
Gender: Female
Parents: Wild
Mate: None
Offspring: None
May 2005

The EverRealm