The Hidden Mountain Pass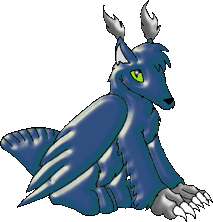 The female carhawox watched from her perch on one of the large boulders you had just pushed your way through. She found your presence more intriguing than worrisome, so she didn't alert the others, they would meet up with you soon enough.
The first to meet you was just stretching after a warm afternoon nap in the sun.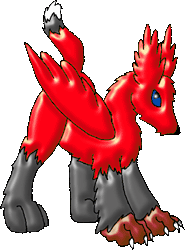 She looked at you strangely, then looked around as if trying to find someone. "Umm, hello. My name is Cantri. And you are?"
You introduce yourself just as another female carhawox joined the first. She seemed equally suprised to find a strange in their midst.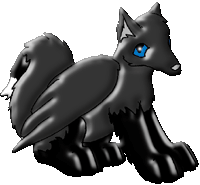 "And I'm Uzura...I don't suppose you've met another of our kind called Azul?" You shake your head, though you'd met several, you were pretty sure you hadn't met this particular individual.
"Maybe someone ate her!" This coming from a young, brightly coloured female.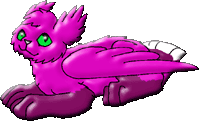 "Let us hope not, Lazra." This last came from a green feathered male. He turned his head to look at you over his shoulder, "I'm Quarl."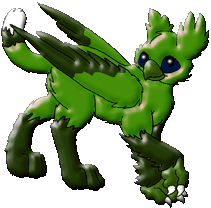 He headed back in the direction you had come, and shortly returned with a blue female. "This is Azul, she watches the small passage through the mountain pass for creatures such as yourself, to give us warning should one appear dangerous."
"This human is not dangerous," Azul replied softly. The other still seemed rather annoyed that she hadn't done her duty to give them notice, but she ignored their glares. Obviously her decision was always right.
"Azul is right. My parents have met this human and have found it to be pleasant company." This last came from another male. "Hello, my name is Daevel, I believe you've met my mother Shaara and father Parlo."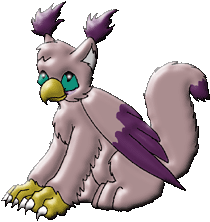 You admit that indeed you had. This seemed to satisfy the others and put them back on good terms with Azul. Daevel went over to her and nuzzled her gently with his beak. This settled some ruffled feathers and she forgave the others.
Statistics:


Name: Azul
Gender: Female
Parents: Wild
Mate: Daevel
Offspring: Iven
October 2004


Name: Cantri
Gender: Female
Parents: Wild
Mate: Quarl
Offspring: None
October 2004


Name: Lazra
Gender: Female
Parents: Wild
Mate: Iven
Offspring: Sira
October 2004


Name: Quarl
Gender: Male
Parents: Wild
Mate: Cantri
Offspring: None
October 2004


Name: Uzura
Gender: Female
Parents: Wild
Mate: None
Offspring: None
October 2004


Name: Daevel
Gender: Male
Parents: Parlo x Shaara
Mate: Azul
Offspring: Iven
October 2004

The EverRealm