The Hidden Mountain Pass

"AWK-YIP!"
You spin around to see a golden coloured carhawox glaring at you with her intense blue eyes. She stalked stiff-legged closer to you. You do the only thing you could think of at that moment, you point out that you've met others of her kind before.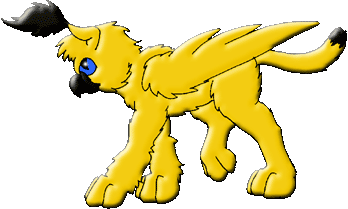 That caught her off guard. Her eyes grew large and she blinked in surprise. "You know Melila?" You hesitate a moment, you've met so many creatures here in the Mountain Pass that you certainly didn't remember all their names, and there were quite a few carhawoxes if your memory served you correctly. Hoping it wasn't a trick question you nod.
With a gleeful squawk, she introduces herself. "I'm Mirrli. Melila is a relative of mine...umm...many times removed. But its still pretty neat that you've met."
A soft whispery voice inquired, "Mirrli, who are you talking to?"
You look around but can't find the source of the question.
"Over here!" Mirrli indicates a gap between two large boulders. Getting on her hands and knees you look into the shadowed interior. To blood red eyes glittered back at you. Then ever so slowly, a black male carhawox moved out into the light. You were reminded of the corpadra's shadow shifting power. The carhawox may not have that power, but he was just as good at melting into the darkness as the other.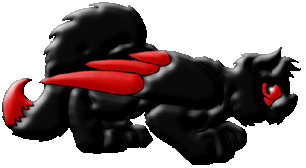 "His name is Bloodwing." Mirrli's squawk in your ear nearly left you deaf, and you're sure that if you were a cat you would have just lost one of your nine lives. "He's very shy, and won't tell any of us his real name, so we just started calling him Bloodwing. The name kind of stuck, and he doesn't seem to mind."
The black male looked at you coldly, and obviously wasn't about to divulge his name to you when he wouldn't tell others of his own species.
Creeping past you he said to his companion, "Come Mirrli, I think I want to find another place to sleep now."
Mirrli shrugged and followed the Bloodwing who seemed unwilling to raise himself out of his crouch, as if he could hide from the sunlight if he could keep himself close to the ground. "Maybe next time? Bye!" Mirrli called over her shoulder.
Thus came the opportune moment another had been waiting for. Without warning, you find yourself pinned to the ground beneath something with claws. A male carhawox with shimmering blue wingtips.
He cocks his head to one side and grins at you impishly. "I'm Parlo. And whooo, may yooou be?" Then you heard some sounds which must have been the natural speech of these creatures, but from your vantage point you couldn't see who it was. Parlo made a face, but got off of you anyway.
You were about to get up off the ground when you felt a wet tongue caressing your hand. You look over to see a small brown female. "Are you alright?" She asks. You tell her you're fine, and she smiles as she helps you up. "It takes a while to get used to all the crazy stuff that goes on around here. My name is Kora."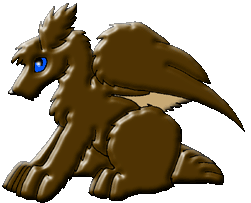 Next to Kora was another brown carhawox, this time a male.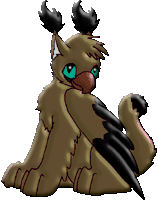 "That is Whilin. He's still young and very shy. Blushes easily too, don't you cutey?" Parlo teases. And sure enough the smaller carhawox blushed beneath his fur. You were about to tell Parlo to leave the poor thing be when a loud yelp caught the attention of all three. It was certainly the sound of a fox, though if it belonged to Mirrli or Bloodwing, or even another, you couldn't tell. But the threesome seemed to know who it was, so dashed off to investigate, leaving you once again alone.
But not for long. Soon enough a sixth carhawox appeared. She was obviously very shy and was startled to see you there.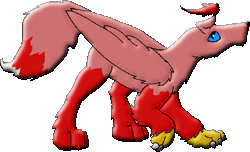 You greet her, again using the approach of knowing other carhawoxes to put her at ease. When you mention Zaren, her tufted ears perk up. "Zaren is my father," she says very quietly. Intrigued, you inquire as to her mother. "Navixa," she replies. You see now where she inherited her shyness, he mother was equally quiet. "My name is Shaara."
Seeing as Shaara was quite uncomfortable in your presence, but too polite to say anything, you relieve her of your company, squeezing between a couple of boulders to continue along the path you'd chosen.
Statistics:


Name: Mirrli
Gender: Female
Parents: Wild
Mate: None
Offspring: None
February 2004


Name: Bloodwing
Gender: Male
Parents: Wild
Note: Halloween
Mate: None
Offspring: None
February 2004


Name: Parlo
Gender: Male
Parents: Wild
Mate: Shaara
Offspring: Daevel
June 2003


Name: Kora
Gender: Female
Parents: Wild
Mate: None
Offspring: None
October 2003


Name: Whilin
Gender: Male
Parents: Wild
Mate: None
Offspring: None
August 2004


Name: Shaara
Gender: Female
Parents: Zaren x Navixa
Mate: Parlo
Offspring: Daevel
October 2004

The EverRealm