The Magical Herd
The Mountains

---
You stop often to take a rest of the climb. Soon the path gets so rocky and steep that Firecracker can no longer follow. Another path leads away, but you have this urge to scale the mountain wall. So you start to climb.
And climb.....
And climb.....
And climb.....
And climb.....
And stop for a breath and to take in the view.....
And climb.....
And climb.....
And climb.....
Finally you're at the top. Only then you realize that its always much easier climbing up, than climbing done. You're stuck.....
Suddenly the sound of tumbling pebbles can be heard, and it wasn't you who knocked them loose. You hope that it was some creature coming to rescue you, not eat you, for at the moment you had nowhere to run and not enough space to fight without falling off.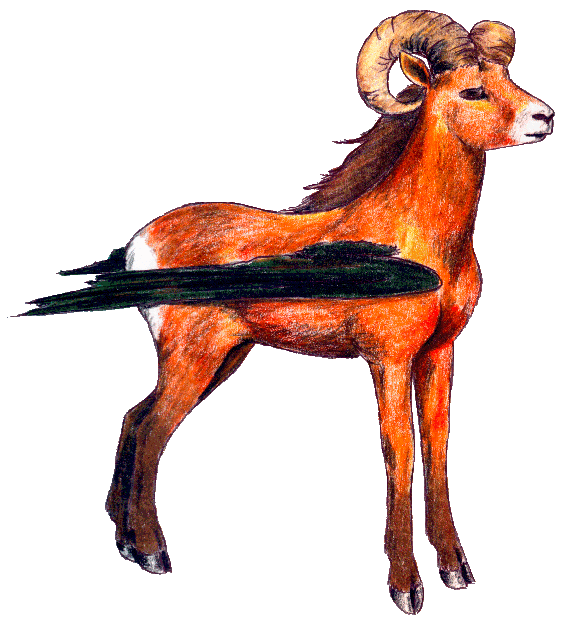 The creature that gracefully clambered over the rocks was no equine. It looked like a ram with dragon wings. The mountain sheep leapt from rock to rock till it landed on the ledge you were sitting on. He looked you with great interest, and a little amusement in his eye.
~Stuck?~ he asked telepathically. When you nodded you could see he was trying really hard not to laugh. Finally regaining his noble composure, he lifted his head proudly and said in your mind, ~I am Gayshan. Though you are too big for me to carry in the air, I am willing to carry you upon my back down the mountainside.~
You asked if you might not be too heavy for even that. Gayshan snorted, ~Certainly not. Do you have so little faith in my abilities?~
You decide not to insult him further and climb onto his strong back. You were glad for the wings which you clung to desperately as the ram jumped from ledge to ledge, his hooves almost never slipping, and recovering quickly when he did. At last you could see Firecracker waiting at the fork in the path. Gayshan took one final leap and landed panting heavily beside the white horse.
~You were perhaps a bit more heavy than I had expected. You were harder to balance as well.....~ he grudgingly admitted. Next time he probably wouldn't be so quicky to risk it as he was this time. You thanked him greatly just the same. If he had really wanted to he could have made you get off, and leave without danger. But he didn't. A very brave creature.
He stands proud, ~I am from the Creation. Besides, I said I would do it. And I always keep my word.~
With that he spreads his wings and flies back up the mountain.
---
August 2000





These buttons were made by SunBlind, please ask permission before using them.