Firecracker trotted along happily by your side, you'd almost forgotten about your companion, so many of the creatures here were able to introduce themselves. However that was to turn out to not be the case for the equines you were about to meet up with.
*These are SunBlind's Flickers. I'm kind of fond of them myself, they are these tiny flaming horses, ah, there are some of the mares*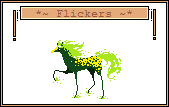 They pranced about through the grasses, which fortunately weren't very tall here.
*They have their origins in the desert, but SunBlind was concerned about the the much larger Drigetti that already live there, and decided the Flickers would be safest here. This part of the grasslands is quite dry in fact, which is good since when you're that small even a little bit of rain is a torrential downpour!*
*The blue mare is called Galaxy, the white one is Entei and the green one is Dark Forest...now where is that stallion...*
There was a tiny whinny and a dun mare galloped through the grass. It was fascinating to watch as she had to dodge the blades almost as if they were trees she was so small.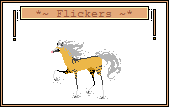 She cantered about, racing around what was a pebble to you but a boulder to her, when you noticed a couple little black things flutter out from behind it. Looking really closely at what you thought were insects turned out to be the smallest bats you'd ever seen...and they were attracted to something...why, it was another mare!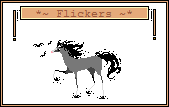 She seemed to like the shade the rock was providing, as if the sun was too bright for her.
A tiny squeal drew your attention to a colt and a filly playing together in the grass. First one was chasing the other, and then they'd switch, effortlessly spinning around and dodging each other's attempts to nip the other. It was fun to watch.