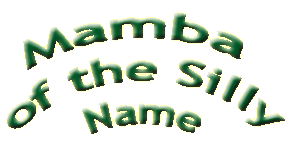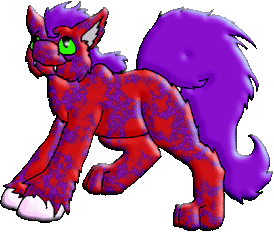 Arguably the most outgoing (and some say crazy, though Mutt is in close competition for that title) of the Mamba, Marbles greets you.
"Hiya there! I'm Marbles, and I'm going to introduce you to my Mamba. I think we're special because we all chose names that start with the letter M, and we did that because we're Mequis. Get it?" She beams a huge grin, and then breaks into fits of giggles.
"Anyways, a Mamba can have twelve members, so we still have a little room. If you want to visit anybody, we all live in the Realm's forest, though we sometimes sneak out into the meadow to run around and sun ourselves. Don't worry though, the forest isn't dark or anything, there's actually lots of clearing where the sun shines through, but I just like the meadow grasses better. When they're tall enough they tickle your nose."
MEMBERS




~MALES~

Molten
Mutt
Maverik
Meeks
Maple
Mustard


~FEMALES~
OFFSPRING



Marbles blushes, "None so far!"

Approved Fosterers:

Created: September 2004
Last Updated: December 2004
THE EVERREALM