You knew you wouldn't feel safe until you were well out of reach of Sabre's talons. You were thankful for the helpful gryphon whorlings, but you didn't want to put any more of them in danger. Problem was, there was no way for you to get back down to the beach, so high had you been brought up the cliff.
You stop to drink from a clear pool. When you raise your head, you notice the presence of another gryphon. He too had stopped for a drink.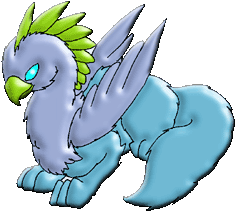 The moment lasted for what felt like forever, like time had frozen in the icy eyes of the male whorling. But his hold over it shattered as a brightly coloured, and strangely formed creature burst from the water.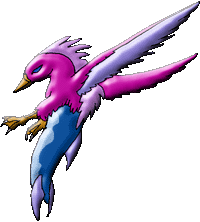 The male seemed amused rather than surprised. You were trying to relearn how to breath. "Surreal, I believe you might have startled our guest a bit."
Sureal had a dolphin like tail and didn't look anything like a gryphon, but the male didn't seem to notice the difference. The pink female responded, "It was drinking out of my pool." The male chuckled and pointed out that he too was drinking from her pool.
"Faded! Surreal! There you are! I've been looking all over for you!" The cheerfully bright green female plopped down nearby. She had no wings, though on the other hand, had a more impressive tail that quivered in her excitement.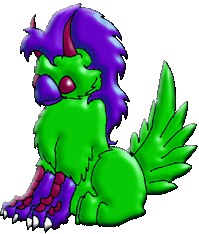 "Had you heard? Sabre's having fits about some human wandering about the pass. Apparently it slipped through his claws...." The female's eyes opened wide as she finally noticed you sitting by the pool. "Oh!"
"Verity, I do believe this is the very same human." Faded spoke softly. Verity looked nervous.
"Hey y'all! What's goin' on?" An orange female sauntered over. Then she saw you, "Well, well. Isn't this interesting."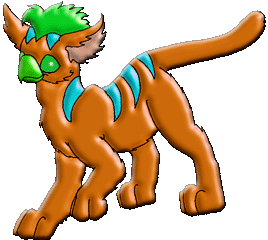 "Chime...Sabre is going to be really mad if he finds out the human came through here." Verity was now downright scared.
But the orange female looked unperturbed, "Then he doesn't need to know. Well traveller, how have you been enjoying our little nook of the Realm?" she asked. At first you thought she meant it as a joke, but she was serious. She obviously meant how you were enjoying it except for the perpetual looming presence of Sabre. You still didn't know what he wanted with you.
Before you could respond, Chime looked up at the sky, "Ah, its Hawk and Eagle."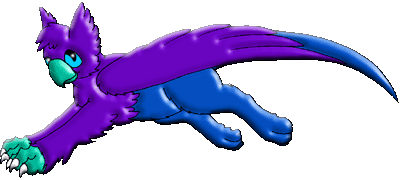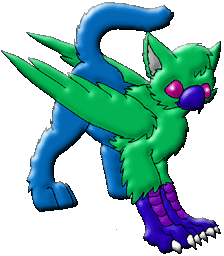 The purple and green whorlings swirled lazily in the warm air and finally found a clear place to land. You hoped that they weren't spies for Sabre. But everyone else seemed happy enough to see them, so you decided to relax.
The male, Hawk, was the first to speak. "I see you already heard about the rumour. Sabre is furious, drafting everyone into searching for this human." And then directly at you, "You can't stay here."
Eagle nodded, "Go that way, away from the edge of this ledge and a little to the east, there you will find a river that cuts through the mountain. The whorlings there will take you upstream where Sabre rarely ventures. Sorry we can't do more to help you. We're a little embarassed about the behaviour of our brethren."
You thank them, and remind them that you truly enjoy being around their species and weren't going to hold one bad appled against the rest of them. Surreal snorted and dove back into the water, but Faded nodded slowly before he flew away into the sunlight.
Statistics:


Name: Faded
Gender: Male
Parents: Wild
June 2005


Name: Surreal
Gender: Female
Parents: Wild
June 2005


Name: Verity
Gender: Female
Parents: Wild
June 2005


Name: Chime
Gender: Female
Parents: Wild
June 2005


Name: Hawk
Gender: Male
Parents: Wild
June 2005


Name: Eagle
Gender: Female
Parents: Wild
June 2005

The EverRealm