He leapt off the mountain wall and landed gracefully nearby. His paws made no sound upon the ground, not even a scattered pebble announced his presence. You would never have known he was there had he not wanted you to know.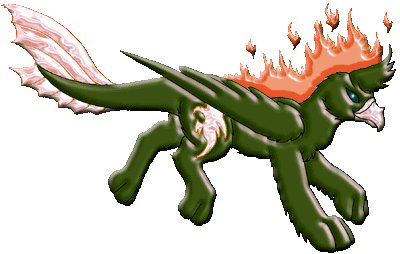 "Wait, human." It was a command, not a request. You stared at his flaming mane and his finned tail. You were also curious about the marking on his hind leg, it kind of looked like a dragon but you weren't sure. You wondered what he wanted with you.
"I see you found our quarry." This came from a second gryphon, who could have very well been the first's brother, the similiarties in all but colour was undeniable.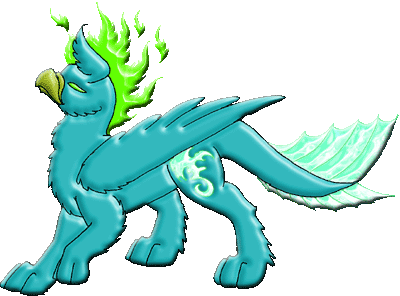 They placed themselves, one on either side of you. "Come with us."
You weren't exactly in a position to argue. Their claws were sheathed but you didn't want to see what they looked like exposed. Seeing how nervous you were, the first introduced himself, "I am Dragon Flame, and this is Dragon Spirit. Sabre wishes to know more of you."
At the mention of that name you knew you were in trouble. And Sabre was such a powerful entities he actually had his own goons working for him. You had to get away from here but at the moment there was no where for you to go.
As the three of you walked in silence, you began to wonder how far that portal had taken you. Then again, it hadn't take long for the two whorlings to find you, unless they knew where the portal opened up. You were startled to see another gryphon in your path, another male that seemed equally surprised to see the odd threesome.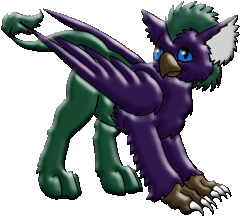 You try to send him messages to get help with your eyes, but he just steps aside as Dragon Flame glares at him. He looked a little sad as you passed, but his feeling sorry for you wasn't going to help much.
A similar thing happened as the next gryphon was encountered. She just got out of the way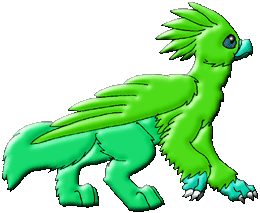 So this was it? You wake up in an impossible world and it's going to end like this? Your death? Or did Sabre really just want to talk to you. Somehow you doubted that, though if he wanted to eat you, he'd probably have wanted to be part of the hunt. You were confused, and getting more and more afraid with each step.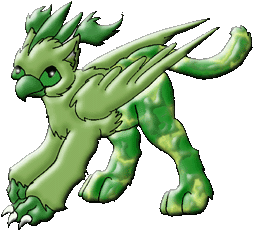 Again, the male whorling just got out of the way of the procession. But he smiled at you when your guards weren't looking. You wondered what that meant. He didn't look malicious, he didn't seem to be enjoying the fact that you were in trouble. On the contrary, it seemed as if something had been planned for your companions.
And then it went dark. In the confusion you managed to trip over one your guards, you weren't sure which. He cursed and you heard his beak snap as he tried to catch hold of you. Then there was confusion and you tripped and stumbled over something else. You just lay there as you listened to the two gryphons search futilely for you. But by some miracle, their search took them further and further from you till you couldn't hear them anymore.
And then came a faint yellow and blue glow. You thought of Mystery, but her glow was more pinkish. It approached and turned out to be another male gryphon. "Come with me, they won't be able to find you now."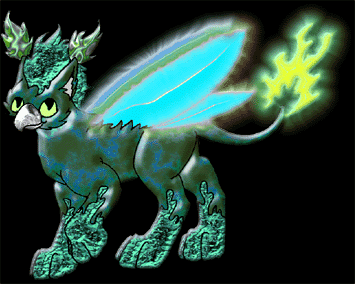 Sure enough, after leading you for some distance in the dark, you eventually found yourself back in the light. "They will keep looking for you, but they will not find you. The others will claim having seen you going in the other direction."
The others?
"The ones you met on the path. Peapod, and Forest, and first of all, Fable. I am Lightning Bug. They asked that if I played my darkness trick, they would do the rest. Normally I wouldn't get involved, but they were quite insistent. And most of the risk is on them anyway."
The glowy gryphon must have noticed the concerned look upon your face. "Don't worry. They won't take any unecessary risks. Both Dragon Spirit and Dragon Flame are very cunning with their tricks, but can be easily tricked by others. They believe no one would have the courage to lie to them. When the trail grows cold, they will not think the others mislead them, but rather that you managed to evade them...I should not wish to wear their feathers when they confront Sabre with their failure."
Wear their feathers? Must be something like not wanting to be in another person's shoes. You thank Lightning Bug and ask that he forward much thanks to the others as well. He nods and sends you on your way.
Statistics:


Name: Dragon Spirit
Gender: Male
Parents: Wild
June 2005


Name: Dragon Flame
Gender: Male
Parents: Wild
June 2005


Name: Fable
Gender: Male
Parents: Wild
June 2005


Name: Peapod
Gender: Female
Parents: Wild
June 2005


Name: Forest
Gender: Male
Parents: Wild
June 2005


Name: Lightning Bug
Gender: Male
Parents: Wild
June 2005

The EverRealm