When you turn, you realize that the mystic has vanished as well but that you are far from alone. In fact, you were being watched very closely by a rather menacing looking samanayr.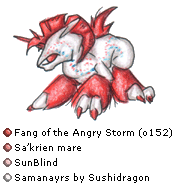 "What ayre you looking at human?" the mare glared at you, her claws digging into the earth by her feet. You apologize, trying to explain that you were looking for someone else and the mare rolled her eyes. "Neveyr tyrust a Mystic".
You enquire into her species, which only managed another eye roll, "Sa'kyrien...humans that come ayround here don't know anything do they?" Standing up she shook out her coat and wander off towards another pool.
"I don't think mystics ayre untyrustwoyrthy", a soft voice from off to your right said. You turn to see a beautiful deep blue Mystic mare. You wondered if there was much tension between the different samanayr species, though until you'd encountered Fang you never got any sense of that. You suspected it might just be the other mare's personality.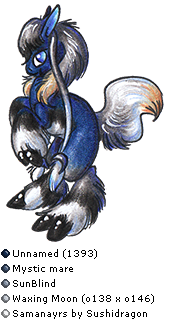 "Gyreetings, I am called Mystic of the Cyrescent Moon" and she bows gracefully. You felt a sense of calm serenity in her the presence of this gentle mare, and a sense of wisdom. And maybe a little sense of humour, given her previous statement. She glances up from her bow and winks.
The song of joyful singing could be heard and over a small rise appeared a plump green mare.
And them...she saw you. Her singing stopped, her face broke out into an enormous grin and she raced towards you on her soft paws. In another moment she was all over you, knocking you to the ground in her enthusiasm. The mystic seemed to have taken the opportunity to make herself scarce to avoid the other mare's joyous greetings.
"A human! I've neveyr seen one befoyre! This is so exciting! Oh, oh, I should tell you my name, shouldn't I? I'm being so silly, but then, well, I've neveyr seen a human befoyre! I've heayrd so many stoyries, but I guess the scayry ones ayre not tyrue, you seem so nice! Yright, names! I'm Beyrry of the Joyous Holly."
You manage to get the pudgy squirming mare from off your chest and put her back on the ground. As you do so, you notice something flying out of the corner of your eye. Another mare, this one with soft moth wings that beat silently in the air. Berry notices and tries to leap at her in greeting but the other mare giggles and rises up just out of reach.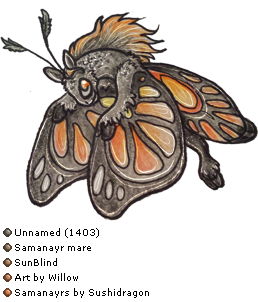 "And I am Gloyry of the Delicate Monayrch and am please to meet both of you".
Berry stares in awe, "Oooh, I haven't met an animal mimic befoyre eitheyr!" You mention that you had encoutered several in your travels and the plump mare wiggles eagerly. "Oh whe're? I must go meet them too." You barely have time to point in the direction from which you came before Berry was padding off and starting in on a new song. Turning back to Glory you find that she had flitted away. So you pick a direction and start walking yourself.


Statistics
Name: Fang of the Angry Storm
ID: o152
Gender: Mare
Species: Sa'krien
Sire: Wild
Dam: Wild
Birth Song: Wild
Song: None
Traits: Single Horn, Clawed Paws
June 2017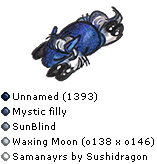 Name: Mystic of the Crescent Moon
ID: 1393
Gender: Mare
Species: Mystic
Sire: Mystic of the Changing Moon
Dam: Gleaming of the Midnight Moon
Birth Song: Song of the Waxing Moon
Song: None
Traits: Mystic Strands
June 2017
Name: Berry of the Joyous Holly
ID: 1308
Gender: Mare
Species: Samanayr
Sire: Wild
Dam: Wild
Birth Song: Wild
Song: Song of the Vibrant Celebrations
Traits: Paws, Pudgy
June 2017
Name: Glory of the Delicate Monarch
ID: 1403
Gender: Mare
Species: Samanayr
Sire: Wild
Dam: Wild
Birth Song: Wild
Song: Song of the Fluttering Vale
Traits: Upright Ears, Tuftless, Antennae, Animal Mimic (Monarch), Wyvern (Giant Butterfly), Guest Artist
June 2017
Song of the Rainbow Hotsprings