Firecracker takes you to the ocean. For a moment you sit upon your mount staring as the waves crashed upon the shore, then he begin to move. Forward. You were nervous as he went deeper and deeper, and then terrifid as he dove!
*Don't be afraid. You'll be able to breath underwater here.*
Finding this to be true you relax and let him take you to the bottom. There he asks you dismount. *The sea here has been magically protected from all dangers, you'll be able to explore on your own.*
And so you let go of your guide's mane and swim towards the sounds you can hear coming from your right. As you get closer you realize it's the sound of whinnies and nickers, though sounding rather watery. Then you spy the first of the group.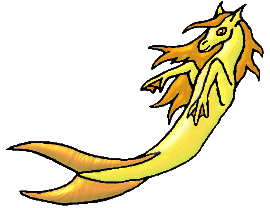 A golden hippocampus swims by backwards and notices you. ~An earth-walker!~, she bubbles. ~Come, look, an earth-walker!~ With that, the rest of the group arrive.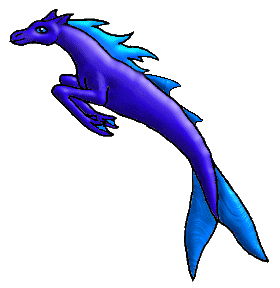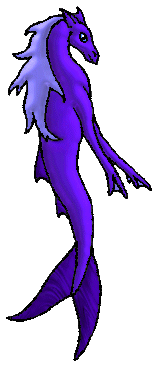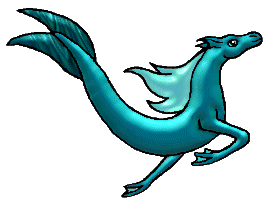 They swirl around you excitedly, chattering so quickly amongst themselves and jumping between sound and telepathy that you could no longer make out a thing they were saying. And you were starting to get dizzy from their constant study of your legs.
~Stop!~ The gold one says and swims up before you. ~I am Golden Star. The other three are Skimming Wave, Silent Depths and Sea Foam. We were born with the Hippocampi of the Endless Sea but we thought to make a new start in this place. And we love it here, even though the elders thought we were too young. But we weren't going to let that stand in our way!~
The youthful hippocampi swam about in intricate patterns and started laughing and giggling amongst themselves. The encouraged you to join them and soon you were grabbing manes and tails and being pulled around in great fun. You were disappointed when Firecracker came to see what was taking you so long and reminded you that the spell that permitted you to stay underwater would only last for a certain length of time. You wished you could grow fins and swim to the depths of the oceans with the hippocampi. But it was not to be today. And so, mounting your guide, you waved to the hippocampi who were determined to call you Earth-walker rather than by your name.