The next mare you were to encounter had no problems with self-confidence. Her stance was downright aggressive as you stumbled onto her drinking from a small stream.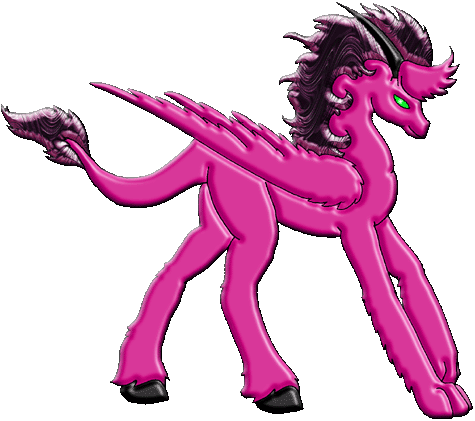 You apologize in a similar manner as Farunna had, but this mare didn't take the apology as well as you had.
"You should be more careful then, there are creatures that live in this forest that would kill whatever sneaks up on them." You describe the few you'd encountered so far and you see her relax a little, "Yes, well those were leagi. There are other creatures that are even more likely to want to eat your bony little body."
You were about to protest being called bony when another mare stepped out from the woods, "Trehanna, be nice. Greetings traveller, I'm Merid."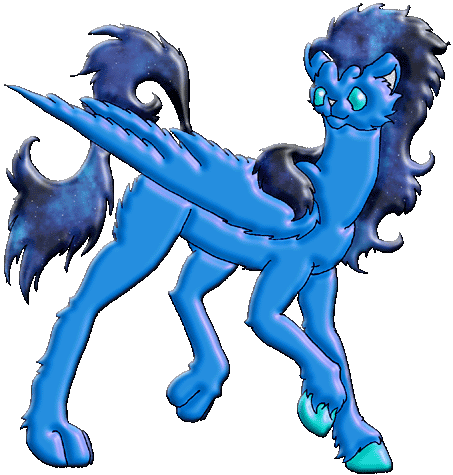 Merid seemed to be gentle, patient and kind, and you marvelled at how her mane swirled like nebula filled with stars. Trehanna seemed offended that you noticed her mercurial mane only second. Like fire and water, you couldn't understand how these two could get along, but it was obvious that they were good friends.
Merid seemed to follow your train of thought, "Sometimes its much easier to get along with someone different from you. If they were exactly like you, you'd be constantly reminded of your own faults, and then blame the other for that reminder. Eventually you'd just drive each other crazy. But we know we are as different as can be, I stop her from losing her temper, and she gives me a little excitement from time to time...like right now. You do realize that she was about to bite your head of...figuratively of course."
You nod and thank Merid from rescuing you. This causes Trehanna to start laughing for some reason and she can't stop long enough to explain. Even Merid shrugged her shoulders. "Like fire, she's chaotic and hard to grasp, sometimes you just have to wait till it passes."
You decide not to wait, in case it passes back into anger again.