Suddenly there was a rush of snow. A snowstorm unlike any you'd ever encountered swirled around you. The world seemed to disappear into the cloud of white, kirrih, Faymaah, even the trees all vanished. And as suddenly as it started it stopped. You take a moment to marvel at the white wonderland that the forest has become, and then you hear someone humming a Christmas carol.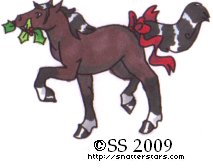 The mare with a large red bow tied to her tail trots over and hands you a sprig of holly. Then she steps back a moment, clearly waiting for something. Just then a stallion bounded into sight, a long garland trailing behind him.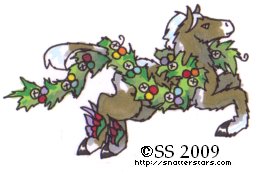 "Follow me!" he said and continued into the trees. Hollyberry looks at you, shrugs and follows the stallion. Shrugging you do the same. He leads you to another clearning where you find to Faymaah mares. One is lying on the ground, the other leaping over her.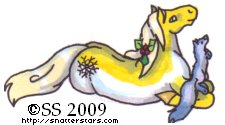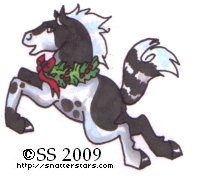 "Garland, you came! And Hollyberry too!" The black and white mare exclaimed, then stopped short, "Oh my, and a human?" After a slight pause she grinned, "Why not, it's Christmas! My name is Icedancer and this is Coldfront. Come join in our Faymaah games."
Faymaah games ended up including a lot of things a human couldn't quite do, so you find a Kirrih peeking into a gingerbread house and sit down next to her. Coldfront's Kirrih joins you. Then you realize they weren't trying to see who was home, but rather someone had nibbled on one of the candy canes outside the front door. You wondered if it was one of them, or had they simply discovered the crime...Aha, the likely culprit was a short distance away, apparently snacking on Santa's cookies too!


Seeing that she'd been noticed she darts away behind a tree, the others take off in quick pursuit...most likely to get their share of the cookies! The was a little squeal of surprise as they dash between the hooves of a fuzzy Feileeah mare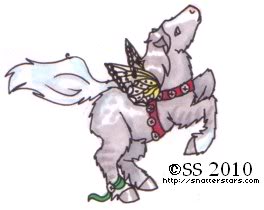 "Oh dear," she exclaimed. "What was that all about?". Everyone started laughing and she joined in. "Hello, I'm Silverbells, mind if I join in on the fun?"