The Hidden Mountain Pass

You climb up to a rather desolate looking ledge. Staring out over the Realm below you have a sudden attack of vertigo and fall back against the rocky wall behind you. Someone snorts with amusement.
"Humans shouldn't wander so far from home."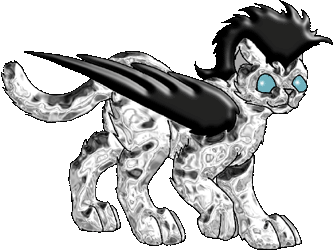 The female tigon came closer, taunting you, amost threatening you as if she would very much please to push you over the edge.
"Dark Moon, leave the human alone." The voice was powerful and commanding and came from a bright blue male Tigon.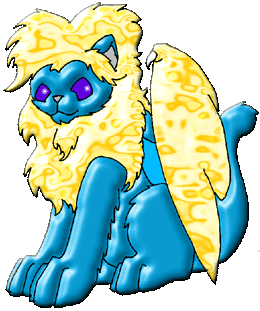 "Please forgive her, she does not take kindly to strangers of any species. Particularly if they are without wings. She considers them to be weak and beneath her, merely placed on this world for her to hunt. I have long since given up the futile attempt to teach her otherwise, but I continue to keep her in check."
Looking towards Dark Moon you see was now feigning lack of interest in you, carefully bathing an already immaculate paw. The male then spoke again.
"I am Summer Sun, and behind you is Fading Dusk. You were find her a much more pleasant companion."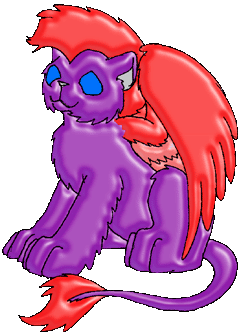 "Greeting human. Not many traveller's come this way. Though many meet with the Cloudstreaked Skies Pride, most don't bother to climb the dangerous mountain walls. This is why we chose this place. To keep Dark Moon safe from others, and others safe from her...and admitedly, we are not the most social group around."
Another female of briliant colouring landed nearby, a look of surprise upon her face.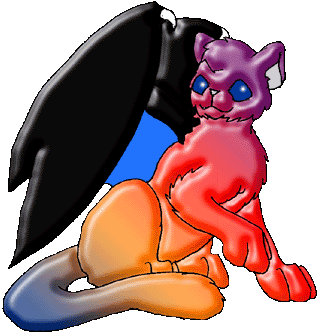 Summer Sun spoke. "Northern Brilliance is our youngest member, she's never seen a visitor without wings here before. Dark Moon has probably filled her mind with horror stories about your species."
The young female looked towards the black mane one and seemed to understand that not all that Dark Moon said was necessarily true. She took a few careful steps towards you, sniffed with gentle whuffs, then stepped back. After all, there is usually a sliver of truth in every lie.
Statistics:


Name: Summer Sun
Gender: Male
Parents: Wild
Colouring: Noon
Pride: Breaking Daylight
November 2004


Name: Dark Moon
Gender: Female
Parents: Wild
Colouring: Overcast
Pride: Breaking Daylight
November 2004


Name: Fading Dusk
Gender: Female
Parents: Wild
Colouring: Twilight
Pride: Breaking Daylight
November 2004


Name: Northern Brilliance
Gender: Female
Parents: Wild
Colouring: Aurora
Pride: Breaking Daylight
November 2004

The EverRealm