The Hidden Mountain Pass

A high laughter flowed over the air. "Then maybe you would have more use of a third eye than I!" A pink female appeared seemingly out of nowhere, and indeed she did a three eyes, three very big blue eyes. She nodded towards you, "I am Kimmor. Perhaps you would like a more reliable guide?"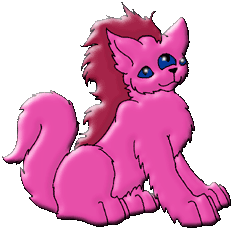 Not wanting to hurt Quiver's feelings you refuse her offer, which it seemed she had expected you to do. Quiver grinned up at you with thanks and led you away from the group, hopefully away from all those who had witnessed the embarassing event.
To make up for what happened, Quiver started talking non-stop. He talked about the terrain, the types of trees and animals, particular those animals the feline whorlings like to feed upon. Of course their diet was a varied as their form. The winged felines had a better chance at catching birds, as the aquatic ones had at catching fish.
"Quiver! Heard you had an 'encounter' with Parvanem! Can I see your wounds?" A green male with hooves on his hind feet popped up in your path. Quiver scowled, "Rumours travel so quickly here, the false ones faster of course, but the true ones move at a pretty good clip too it seems." He paused to look up at you, "This is Mivet."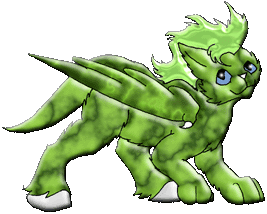 Mivet gave you a cursory greeting then turned his attention back to Quiver. "So where'd she get you? I don't smell any blood."
Quiver had to explain that he was lucky and had gotten away unscathed. Mivet looked disappointed, "Everyone was saying that you would be scarred for life..."
"I'd heard he lost a leg along with an ear, and that his face was so mutilated he was difficult to look at." This came from a nearby stream, the front half of a puple female whorling was resting on the bank, her tail moving lazily in the water.
Quiver sighed as he made the introduction, "This is Nuweram." Turning back to the feline he asked, "And who else has heard?"
"I heard! Only I heard that you'd been blinded and were most probably deaf as well." Not waiting for Quiver to make the introduction the spikey male introduced himself, "I'm Jeseyt."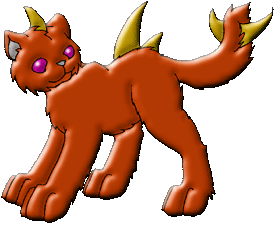 You could see Quiver shrinking noticeably. It seemed like everyone had heard. He was embarrassed, even more so because of the ridiculous stories that had been woven from such innocent beginnings. Hurriedly he led you away.
He seemed to lead you away from any part that was particularly inhabited, probably hoping that as he guided you about he wouldn't encounter anyone else. But he wasn't to be so lucky. As you requested to stop to get a drink from a pool whose water looked more delicious than any water you'd ever seen before, a voice could be heard. "I thought you were on your death bed. Looks like the stories were exagerated as usual."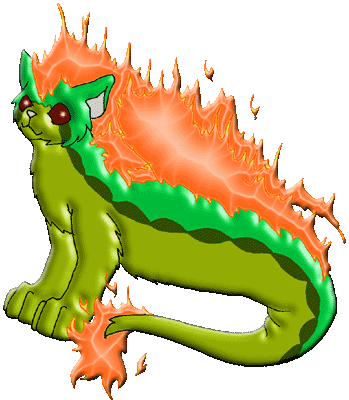 You look up to see a most amazing creature. She seemed to be half snake and half cat, with flames running down her back. Quiver growled a second then cried out, "ENOUGH!" and took off, leaving you and the female staring at each other in confusion.
"My name's Tirshall by the way. If you must know, I was happy to find out that Quiver was alright. He's a pretty nice guy, though he tends to overreact at times."
As you brought more water up to your lips you noticed something bright moving deep near the bottom of the dark pool.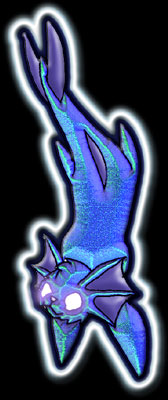 "Ah, that's Soffeal. He won't come to the surface, he's extremely shy. Probably looking for some place to hide after noticing that his pool had been disturbed." You dry your hands on your pants and call out an apology, telling him that you were going now and that he didn't have to hide anymore. You had no idea if he'd heard you or not.
Statistics:


Name: Kimmor
Gender: Female
Parents: Wild
June 2005


Name: Mivet
Gender: Male
Parents: Wild
June 2005


Name: Nuweram
Gender: Female
Parents: Wild
June 2005


Name: Jeseyt
Gender: Male
Parents: Wild
June 2005


Name: Tirshall
Gender: Female
Parents: Wild
June 2005


Name: Soffeal
Gender: Male
Parents: Wild
June 2005

The EverRealm