The Hidden Mountain Pass

You looked out across the valley before you. It went far into the distance, this time so much farther that you couldn't see the end of it. Well, you had no choice but to go forwards.
It took you a few moments of walking before the strangeness of this part of the valley struck you. It wasn't the gemstones, you'd gotten used to their sunlit sparklings, it was their colour. Everything here was blue. Just like the hunter cats. You noticed the first one trotting along beside you.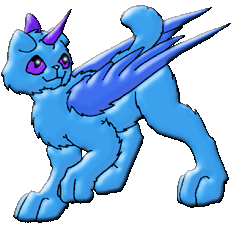 When that one disappeared, another took its place. Again, blue like the ground, plants, rocks and entire valley around you.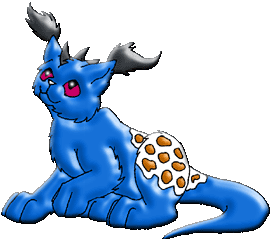 The male paused to look at you for a few a bit, but didn't follow you. The next hunter cats were a female and male pair. They were in front of you, playing with a small stone...you wondered if you'd be rich if you filled your pockets with these small "playthings" and brought them back to your world. There were so many people who would love to own a valley like this, but you wondered if the jewels would loose their lustre if those people discovered they could never leave this place again.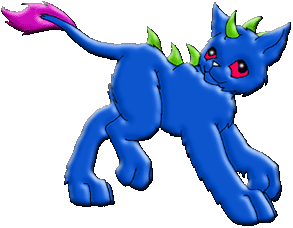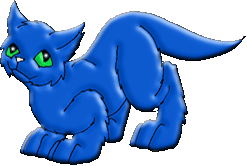 And you wondered if they would get sick of the colour blue after a while. At least in the first part of the valley you could never get bored with the brilliant colours, and though the blue here came in so many shades, more than one could count, it was still one colour. And you felt oddly out of place, not being of that colour yourself.
You kicked a pebble and a hunter cat pounced out of nowhere, chasing the stone out of sight.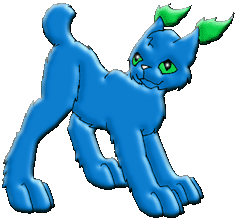 You sigh, wondering if the colours of the valley were what was bringing you down this way, or the fact that it seemed like the valley would never end. You still hadn't found a way out, not secret passageways or paths up the sheer valley cliffsides. Then you noticed another hunter cat peeked out from a corner you hadn't noticed before. Maybe that was the way out. You follow.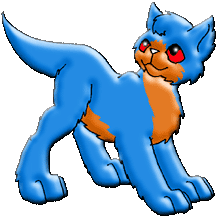 You hoped the fact that he was orange, as well as blue, that he may lead you someplace different.
Statistics:


Name: Benitoite
Gender: Female
Parents: Wild
Mate: None
Offspring: None
May 2005


Name: Chalcopyrite
Gender: Male
Parents: Wild
Mate: None
Offspring: None
May 2005


Name: Chlorite
Gender: Female
Parents: Wild
Mate: None
Offspring: None
May 2005


Name: Dolomite
Gender: Male
Parents: Wild
Mate: None
Offspring: None
May 2005


Name: Marmatite
Gender: Female
Parents: Wild
Mate: None
Offspring: None
May 2005


Name: Hauerite
Gender: Male
Parents: Wild
Mate: None
Offspring: None
May 2005

The EverRealm