There was a swirl of unexpected snow and you stumble back from the pool. The wind tears at your clothes and your eyelashes frost over. You can't see a thing as you are buffetted about. At some point you trip over something and find yourself staring into the water once more. The snow was gone, but so was Trust, and Isis and the others. Instead, you find yourself face to face with another fish-tailed Serian. You grin, guessing this must be another sibling of Trust and Arrow.
He seems surprised. "You are right, Harmony is my mother, but my father is neither Radiance nor Danger, but rather Bramble". You grin even wider, having met Bramble, his daughter Elegance and son Chaser earlier. "It was quite the family reunion. The six of us had quite a party, with Arrow's children as well. It attracted a lot of attention and the next thing we knew all the Serians of the Hills had joined it. It was a great way to meet the others, and the other newcomers enjoyed it as well."
More newcomers?
"Yes. There were quite a few Serians looking for new homes, what with the holiday season and all. It's quite lonely wandering by yourself during times like that. So SunBlind offered her Realm to any who wanted to come. Winter had become a close friend of mine, being of the Sacred Sea altar she spent a lot of time near the water. And a young foal somehow managed to join our little group. He didn't have a name, and he was determined to have a name that described him exactly. And so SunBlind called him Truth's Throne...."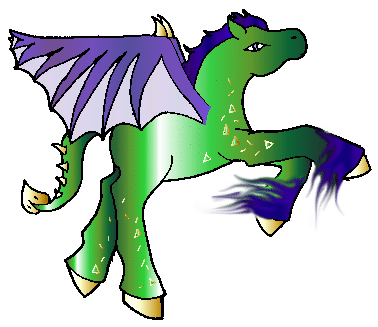 Just then the young green Serian landed nearby, "Wait, I want to say why I agreed to that name!" He was all out of breath, as one would expect a very young, excited Serian to be. "She called me that because when she looked at me she saw a dragon, and how dragons in the Orient were symbols of royalty, just like in Europe. And how they stood for wisdom and justice...and I kind of liked that. I'd like to fight for truth and justice one day."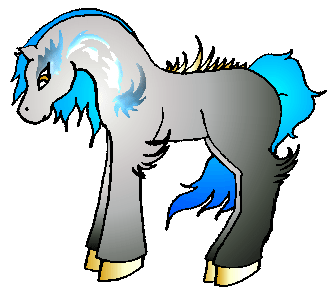 "We all know you will little one," an icy gray mare said. This was of course Winter. While you were distracted by the exhuberant Truth's Throne the mare had wandered over to join her friends. She looks up towards the sky, "I've asked Fang and Flutter to join us."
Warrior added, "We didn't encounter them while we roamed Sionayra, but SunBlind offered them a home at the same time as us so we've come to know each other quite well. Flutter in particular found it hard to come, she doesn't remember anything of her past. She doesn't know if she has an Altar, or if she had parents. The only thing she recalls is her name, as if she just one day suddenly came into being. We think she might have been bonded once before, but even that is a blank to her, if she was bonded, she doesn't remember with who."
The stallion and mare in question landed nearby and came over. Fang was a small blue stallion while Flutter with a brilliant gold with stunning butterfly wings and feline hind paws. While Serians came in many shapes and sizes, her unique form made you wonder about her origins too. She was certainly not like the rest.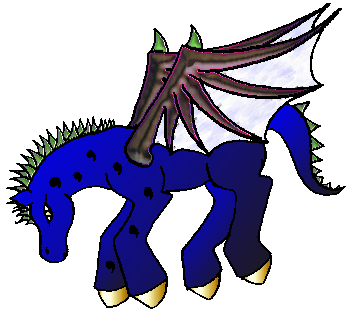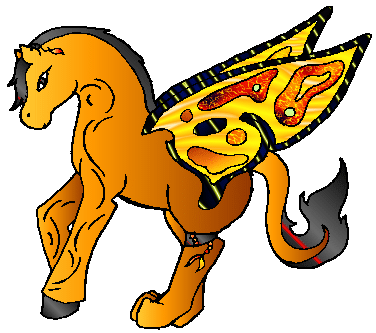 Just then another Serian trotted up. He paused uncertainly when he saw the gathered group, his tail flicked from side to side. But you could see him restle with himself to gather the confidence to move forward. His head came up and appeared to take on a commanding attituded.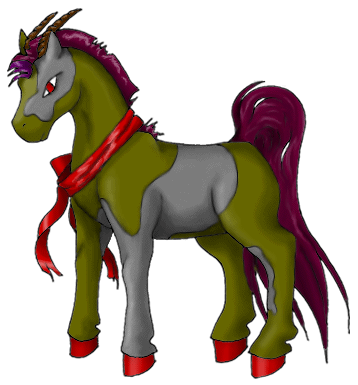 "Hello, I'm Imp," he said to introduce himself. While his exterior now excuded confidence, it was clear that he was still socially awkward on the inside. The others rushed forwards and he pinned his ears back and stepped back until he was again able to control himself. He clearly felt he should be a leader but in truth he was incredibly shy. He nodded to everyone as the introduced themselves, including you. After some stories about how everyone came to be here, the group broke up and went their own ways. It was getting dark so you decided to get some rest...
Statistics

Name: Warrior
Gender: Stallion
Parents: Bramble x Harmony
Circle: None
Offspring: None
Special stats: Fish tail
December 2011
Name: Truth's Throne
Gender: Stallion
Parents: Malevolence x Mist
Circle: None
Offspring: None
Special stats: None
December 2011
Name: Winter
Gender: Mare
Altar: Sacred Sea
Circle: None
Offspring: None
Special stats: None
December 2011
Name: Fang
Gender: Stallion
Altar: Deep Shadows
Circle: None
Offspring:
Special stats:
December 2011
Name: Flutter
Gender: Mare
Altar: Unknown
Circle: None
Offspring: None
Special stats: None
December 2011
Name: Imp
Gender: Stallion
Altar: Forest Song
Circle: None
Offspring: None
Special stats: None
February 2012

Sionayra