You climbed up one hill and down another, coming to a bizarre scene. A stallion with wings made of bone was racing about in front of a white and pink mare. She watched his stranged behaviour.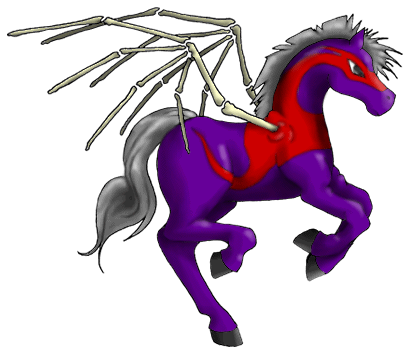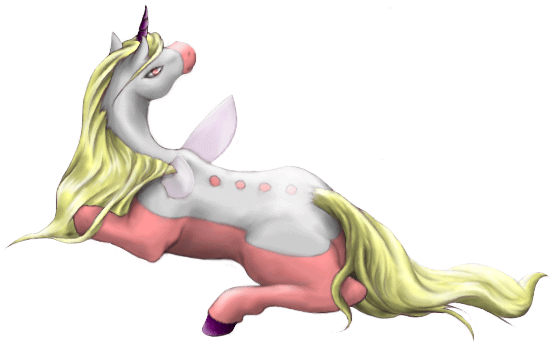 Suddenly they both turn their heads to look at you. "Who are you?" the stallion asks.
You explain what you were doing in these hills. They pause a moment and look at each other. During that time you came to realize you could see your breath, that it was cold here. The mare seemed to be immune to the cold, but the stallion might have been trying to stay warm.
They seem to decide that you were not a threat. The stallion comes closer while the mare hangs back a bit. "I am Wyvern, and this is Petal. Please forgive my excess energy, but I had been bonded a year and a half ago by another and then given no place in which to live. Finally I have found a new home here in SunBlind's Realm and I just can't get enough of running about these hills."
Petal smiled shyly but added nothing. "No, the void between Realms was not place for a Warrior to live. Petal has been kind enough to put up with me while I work out my kinks, though she's so kind and gentle she would put up with anything. She's also beautiful, having won a beauty contest prize at the second Serian Festival."
The mare barely whispers, "You also won, for your strange wings."
Wyvern hears her and puffs up. I did indeed.
"And its gone to his head." Another mare came, this one sky blue with draconic wings. "My name is Solus traveller."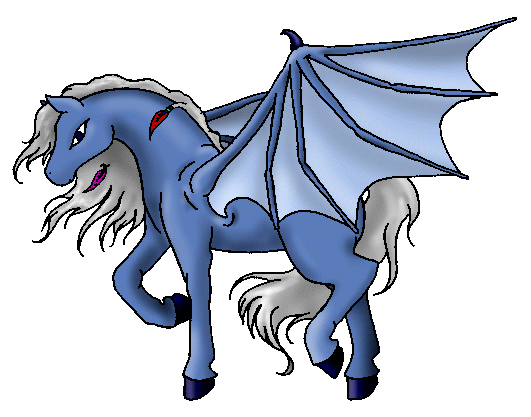 "I too was lost to the void before finding my way here. The Realm Keeper is always glad to give a home to those who had lost theirs." The chill wind blew through the mares white mane, it did not affect her. But you and Wyvern both shivered. He started prancing about. The blue mare nods, "Petal and I are from the Altar of the Arctic Winds, the Realm Keeper knows we prefer it cold. Wyvern on the other hand is Red Sands, so is probably most uncomfortable right now." He nods as another gust of wind cuts right to the bone.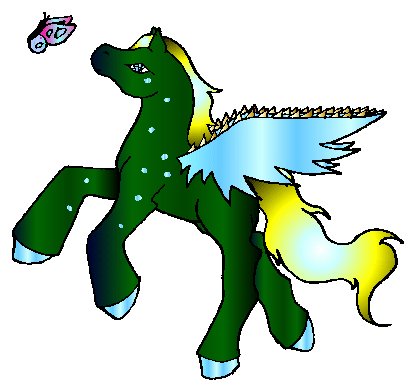 Just then a young green stallion raced over a hill. Morning had arrived and he was following a little butterfly. It fluttered off as he noticed the group gathered together. He cantered down.
Even the other Serians didn't seem to know who he was. "Hi!" he said cheerfully. "And good morning. My name is Chaser." Everyone introduced themselves and he smiles, "Wow, there's more of us here than I thought." They ask if he was another from the second Festival and he nods, "Yep. And most of my family came too. My father and my sister. My mother got bonded to another Keeper." This didn't seem to bother him that much, he was probably able to visit her anyway. "Want to meet them?"
Everyone nods and they follow the colt.