Pondering the strange bird, you nearly missed the tiny little Ja'alek gathered here in a group. It appeared that there was quite a large number of males. You kneel down to find out what was going on.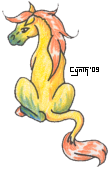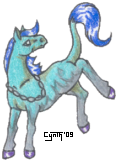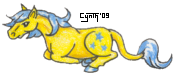 The small green mare with purple mane approaches you.
"Hello, welcome to our little part of the forest. We were just having a party!" You had to admit, it certainly looked like a part. The mare actually rose up and started wiggling back and forth, "My name is Eleboo. Come, I'll introduce you to everyone else!"
The tiny mares starts wandering among the gathered Ja'alek. Now that it was clear you didn't mean any harm, they went back to what they were doing before. Dancing, laughing, eating or just chatting with each other. She stops first next to the yellow and green stallion, "This is Chefes." He turns his head to nod in yoru direction then continues his conversation with the purple and orange mare that Eleboo introduces as "Ocesu".
You were to encounter the lilac Sposk and the sky blue Crostin next. You couldn't help but remark on the chain around the second stallion's neck and he made a happy little buck in response to the compliment.
The dark blue stallion was named Sritan, and the yellow stallion with stars was called Stacid. Neither stopped dancing for a moment even while they started talking to you.
As you wander away you realized something strange that you hadn't noticed at first...you hadn't heard any music!