Vienna
Day 4 - Monday, September 19, 2005 cont'd...
The Viennese Woods is a popular summer retreat for the city dwellers. Because of this, it was made illegal to build any new cottages outside the boundaries of any already existing village. This decree was made over a hundred years ago by a forward-thinking Hapsburg who realized that one day the woods would be completely defiled it nothing was done to stop people from cutting the trees down. Now the woods protect Vienna from the pollution of nearby industrial cities. And of course, hold many treasures for tourists to visit, like the Heiligenkreuz, the Abbey of the Holy Cross.
This pillar is erected whenever the Black Death had come and decimated a city. It was erected by the survivors in thanks to God. We found these in several cities, including Vienna and Innsbruck.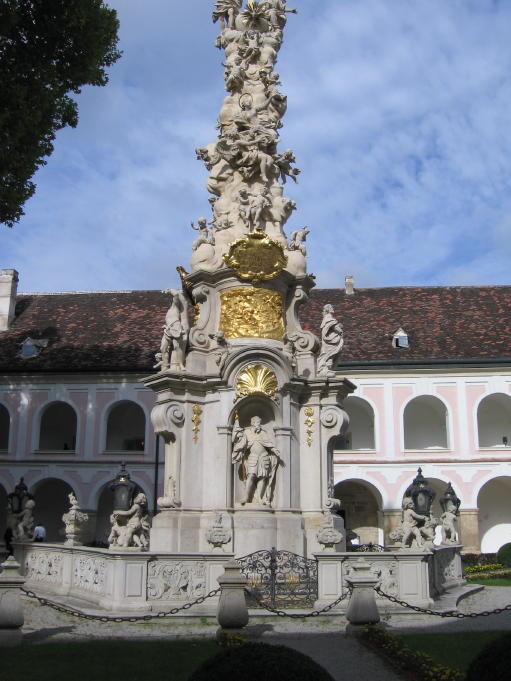 This tour was intriguing because the tour guide had to be given a key to take us to certain parts of the monastery. A couple of times someone would slip through the door with us only to realize that he couldn't get back because the door would be locked behind him. We had to shoo them out again. This was taken after we passed through the first door. Those archways are open to the air and it was icy cold through the stone halls. I don't know how the monks lived here. Only a handful of them remain of course, as is the case with monasteries around the world. We even saw one of them, he came in to the chapel in his black & white monk's robes, wearing a windbreaker, a backpack and talking on a cell phone :)
This was taken through one of the window arches in the picture above. A nice, hidden garden sanctuary.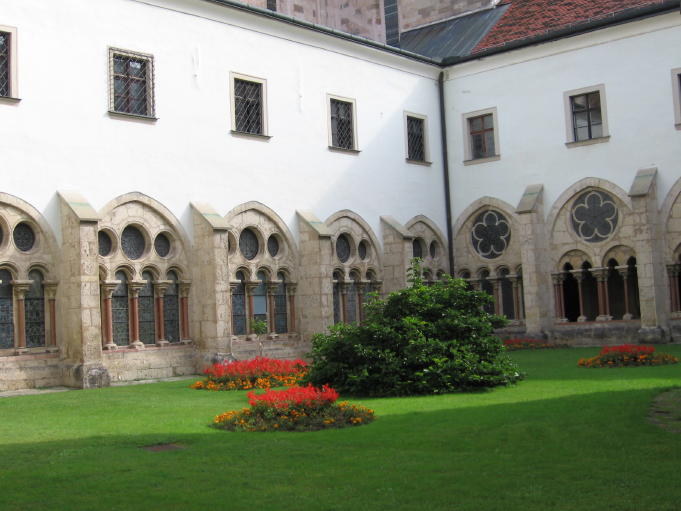 Beside the garden there was a small enclosed alcove containing a fountain. It was encrusted with stone and slimy green, but the reason for that was because it was a natural spring. The minerals in the water were being deposited on the fountain for centuries making for quite a strange effect. I don't have a good picture of it, but you can see a little corner of it anyway, in the bottom right. We learnt that this was a more recent addition because the stained glass had human images present. It used to be a sin to represent the human form in any kind of painting or other artwork.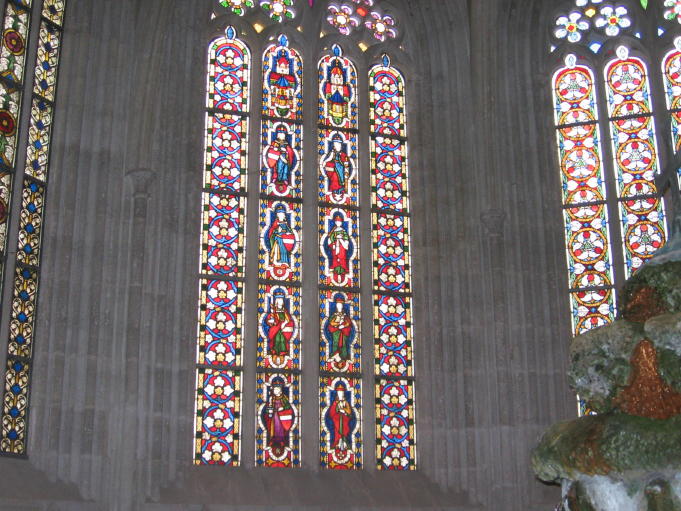 Another room where we were allowed to sit down and rest. The rose window dominated the room. For the life of me, I don't remember the story the tour guide told us here, but it had something to do with the tomb there...Somebody the Somebody....it wasn't a flattering title. I'll fill this in if I find out.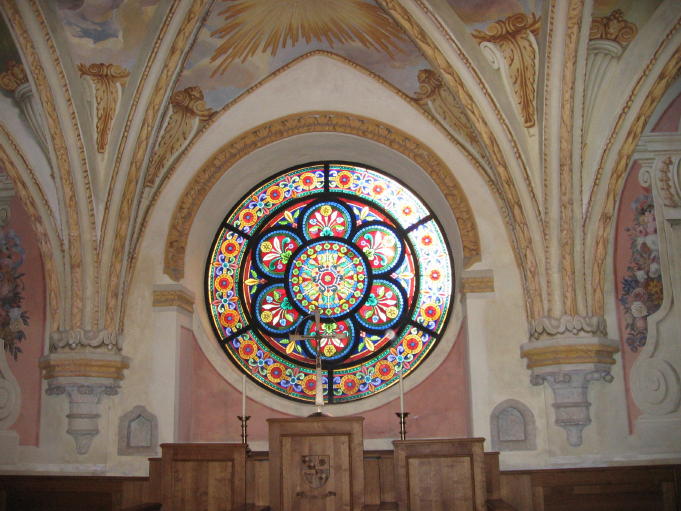 Leaving this room we pass another room but gated closed. Inside is where monks are laid to rest when they die. The skeletons with grinning skulls were kind of creepy, and what with the iron bars, a veritable crypt. Unfortunately it seems we didn't take any pictures of this room.
On the other hand, we did take pictures of the carved pews upon which the monks sit during mass. Though beautiful to look at, apparently they are very uncomfortable to sit on. Above each seat is a bust of a monk, if one looks closely enough you can make out the expression on each face. Each one is different and said to represent the personality of the monk. Some were friendly looking, others were downright mean. It was pretty funny.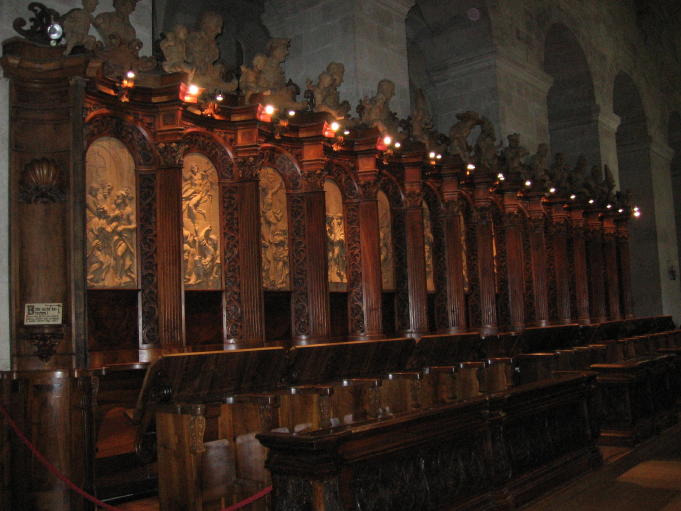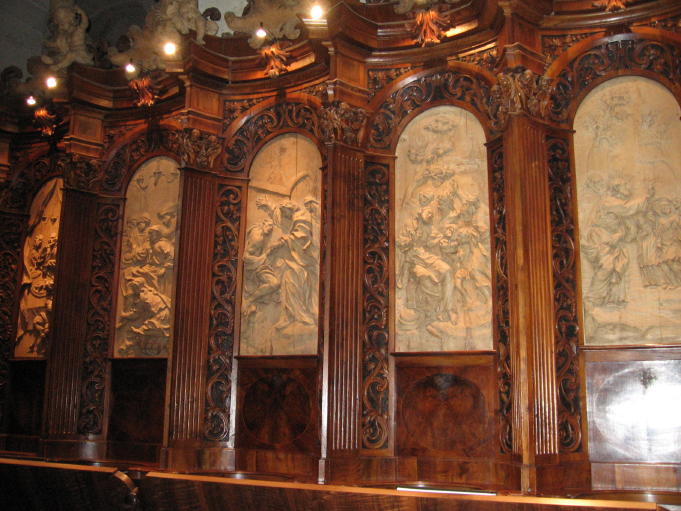 We then stop for a bathroom break. Actually, I'd never taken so many bathroom breaks in my life as I did on this tour. There were several reasons for this. First, the tour was mostly made up of those who were, well...let's just say in the retirement age. Secondly, one never knew where the next stop would be. Thirdly, and most importantly, one never passes up a free bathroom. One often has to pay for a public bathroom in Europe, but our tour guides knew where to go, and we didn't have to give up a single Euro cent the entire trip.
Now we drive up to Mayerling, Crown Prince Rudolph's hunting lodge. Well, we drive partway up to it, the rest of the hike we had to do by foot. A little cat watched our group as we went by. There is a sad tale behind this place. In 1898, the Prince and his mistress Maria were found dead, apparently by suicide. Of course, no one knows for sure, and many theories abound. The Prince had wished that he be buried there with his mistress, but instead his father had him moved to the Hapsburg crypts and forever separated from his love. The building is now a nunnery, only part of the original building remains, I think because it had burnt down.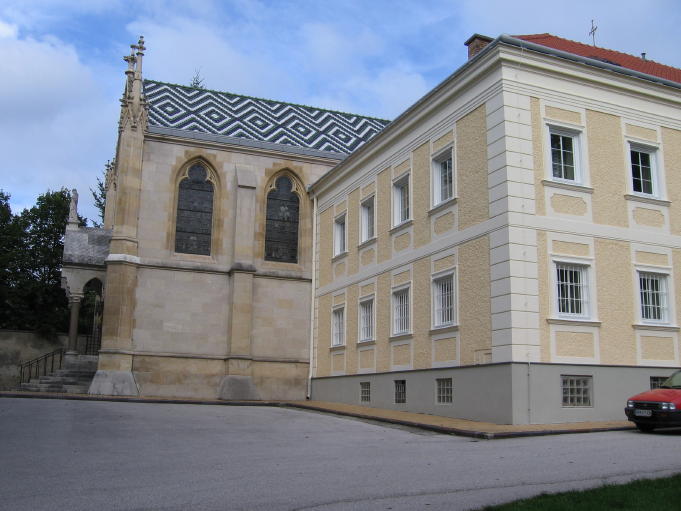 We now return to the city to continue the optional tour we started at Schönbrunn. Those who didn't join us at 6 in the morning were sent off to do their own thing, while we went to visit the Crypts.