Vienna
Day 3 - Sunday, September 18, 2005 cont'd...
Next, on to the Opera House, first a pretty fountain just outside.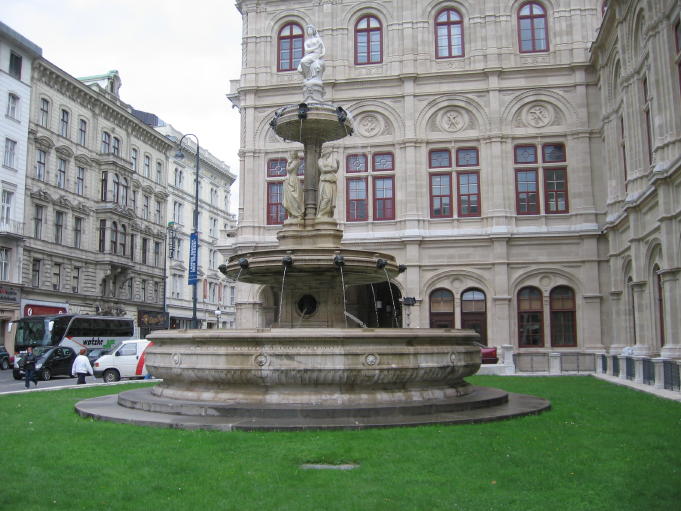 We were brought backstage to where they kept the props, and did the lightning, etc. The place was big enough to contain the entire St. Stephen's Cathedral within it (another Austrian landmark). Every night they play a different opera. Yes, every night. They alternate between operas, and ballets, redoing the set every single day, trucking the props back and forth to storage and back. The admission fees, though always sold out, only cover a fraction of the costs. The city pays for the rest, but the Viennese wouldn't want it any other way. Unfortunately, it turns out that my camera flash is rather weak, so all my pictures came out nearly black. Anyway, this is the back of the Opera House, with the large box intended for the emperor, but is now available to anyone who can afford the fee.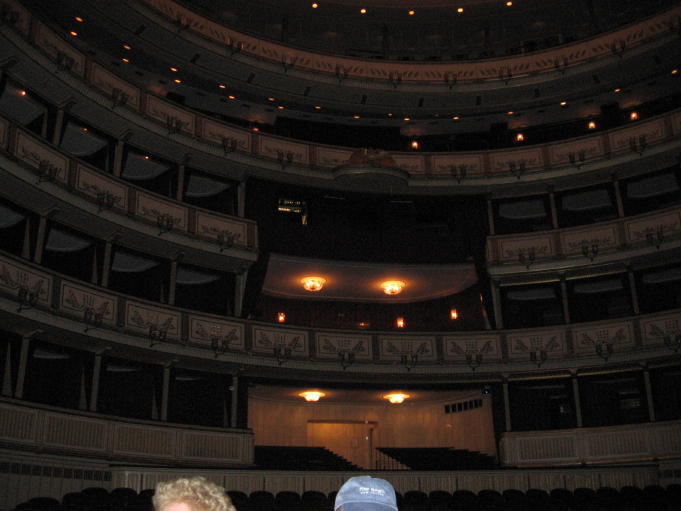 A better picture is of the stage, since they were testing some powerful lights it was actually bright enough. But it was beautiful there, especially the ceiling, you'll just have to take my word for it.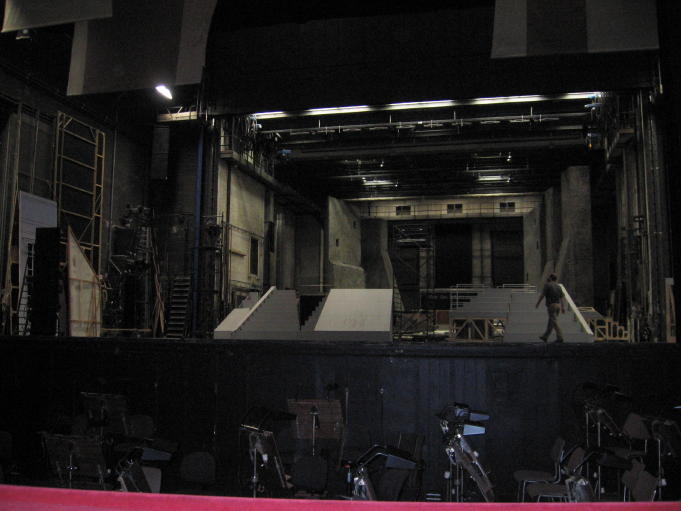 This is just a picture of some random building. I was trying to capture the general architecture and feel of the entire city. Notice how ornate the building is. And if you look very closely, you'll notice the inevitable fact that McDonald's has found its way here. What was annoying though, was that the city allowed McDonald's to post signs pointing to their restaurants, not just in front of the restaurant itself. So there were signs with arrows all over the place. Kind of ruined the elegant, old city effect.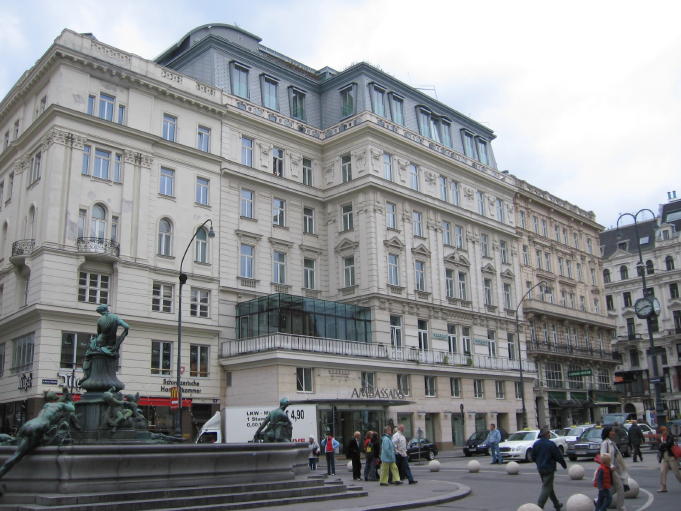 We were set free, no tour guides, just us on our own. I think we had to make it back to the pick-up point by 3 so they could take us back to the hotel. As we were to discover in a couple of days, the hotel was not easy to get to. The first thing we did was go get something to eat. There was a Movenpick type restaurant there that was recommended by the guides. A good price, a wide variety of things to eat. As this was Vienna, we take cakes...and I had a hot chocolate, though later I regretted eating such a rich lunch, chocolate doesn't make for a good meal.
As we wandered, we found a motorcycle made entire of wood. Rather unique.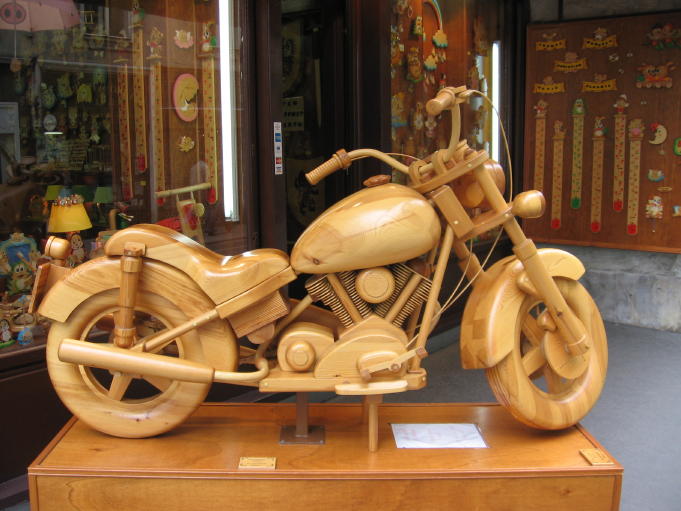 Now we are back at the Hofburg, only inside the private chapel you saw stuck between buildings. Sorry for the darkness again. Our film camera had a much stronger flash, but we weren't always using it.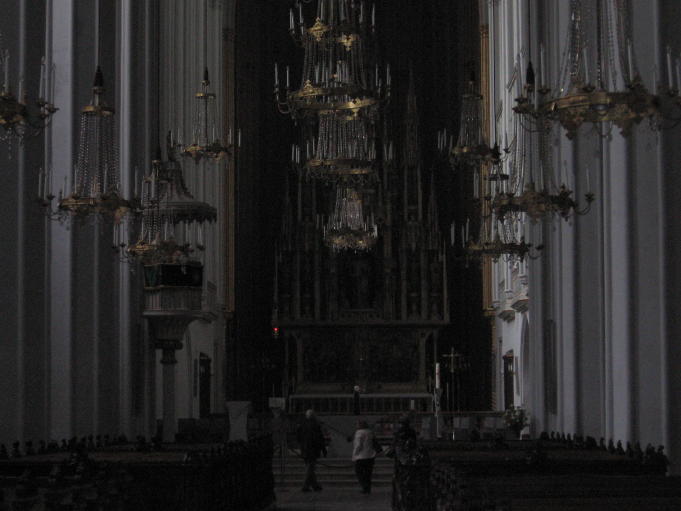 Now a statue in the square in front of the palace, carefully taken so you can't see the stage and other stuff surrounding it. The statue is of Emperor Josef II.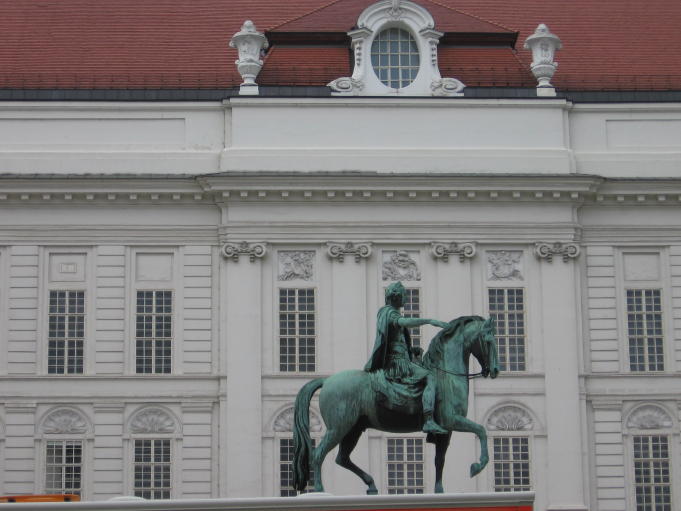 Now, it is finally supper time. On the way, our tour guide points out to us that the city is not called Vienna, but Wien (remember, a W in German is like an English V, while a V in German is like and English F). So the people of Wien are called, you guessed it, Wienners :o) Exactly the same way that people from Frankfurt are Frankfurters and people from Hamburg are Hamburgers. And even Berlin, Berlinner is a kind of jelly doughnut, and yes, that's what Kennedy said he was in that famous speech. Its all on how you say it.
Anyways, we are brought to the village Heurige in the Viennese woods. This type of restaurant started when a group of travelers stopped at a farmer's home where he served them wine he made himself. This visiting of wine making farms became popular, so much so that now most of these houses can no longer supply enough wine for their guests. Those that do manage to produce enough of their own are allow to have a spring of pine hanging in front of their door to indicate this. This house is one of them (see the wreath hanging over the entrance), operating since 1720. The food was good: wiener schnitzel, pork, ham and chicken, and of course wine.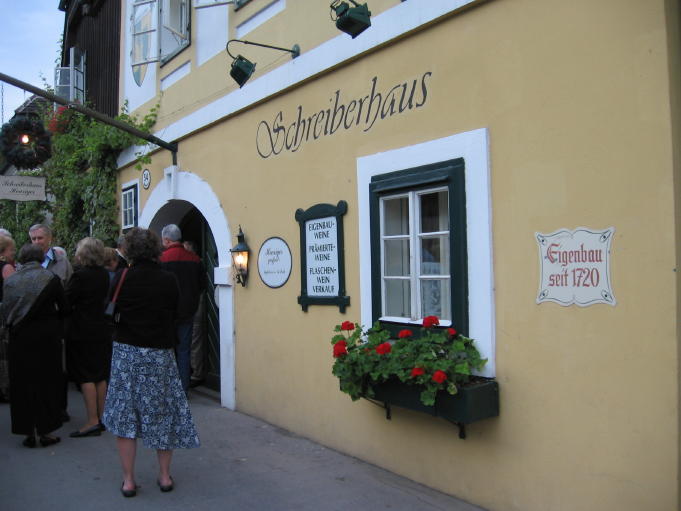 And of course, musical accompaniment. A funny guy who played Vienese waltzes to bar songs to Eldelweiss.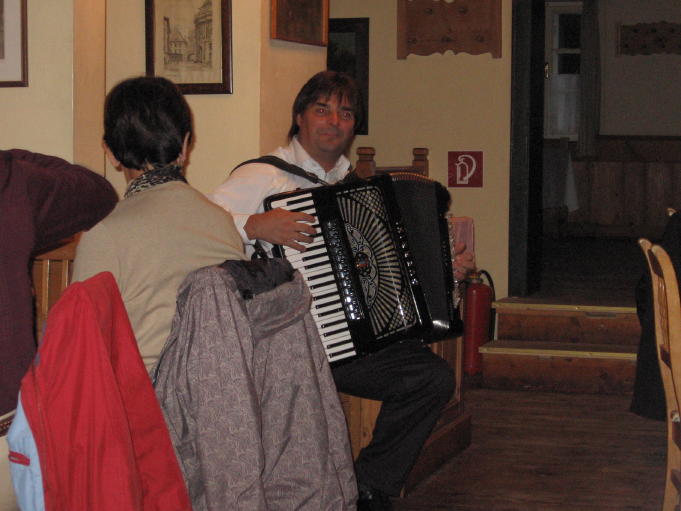 Then (what, you thought the day was over already?) we went to the Stock Exchange building where they have a beautiful hall where concerts are performed. We heard waltzes, operas and saw ballets. The orchestra was nicely dressed in period clothing, as were the dancers. Even the hall was lovely. Once that was over we were quite ready for bed, we'd been going strong since 8AM, and were looking forward to a 6AM wake-up call!