Munich
Day 9 - Saturday, September 24, 2005
Pancakes! The hotel had pancakes for breakfast. This was a nice change from buns and sausages. Not a big deal, but was something I was grateful for. And so started our last full day in Europe.
I didn't have high hopes for Munich. I'd gone on this trip to see Austria and didn't expect much from this big German city. As far as I was concerned, it was just part of the tour that we didn't have the option of skipping. But I'm glad we didn't, for it surprised me very much and I ended up liking it a lot.
We didn't have any deadlines to meet this day, so we were allowed to sleep in later than we'd been able to for a while. There was only one optional tour this day, and it was to the Dachau concentration camp. Though I don't deny its historical significance, it wasn't what I wanted my last memories of my trip to be. None of us wanted it to end on such a depressing note.
So when the bus brought us to the Opera house, we got off while others went on their tour. Noel came with us to show us around the city and point out the things to see. The first was of course the opera house itself, seen in the picture below. This entire square was interesting and to which I had every intention of returning to take pictures, but we never made it back.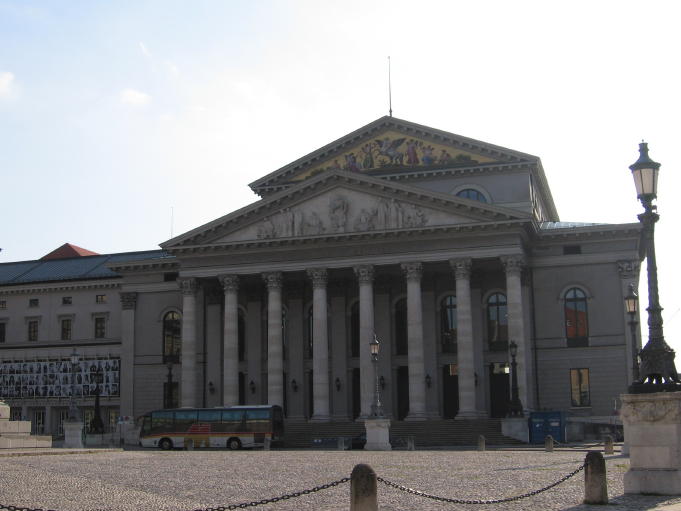 At this moment I want to add a little note that I am now writing this page in July 2006, 11 months after the trip. Details will probably be a bit sketchy from this point on. Had to look up most of the names in the guide book (thankfully we bought one!).
From one square, we were led to another, this one called Marienplatz. It is bordered on one side by the Rathaus, or Town Hall. Here we stopped to get some last minute directions to where everything was, such as the market and where some good shopping was. However, one cannot go to Munich and not see the famous clock tower. This is a view of the famous clock tower itself, located in the center of the rathaus.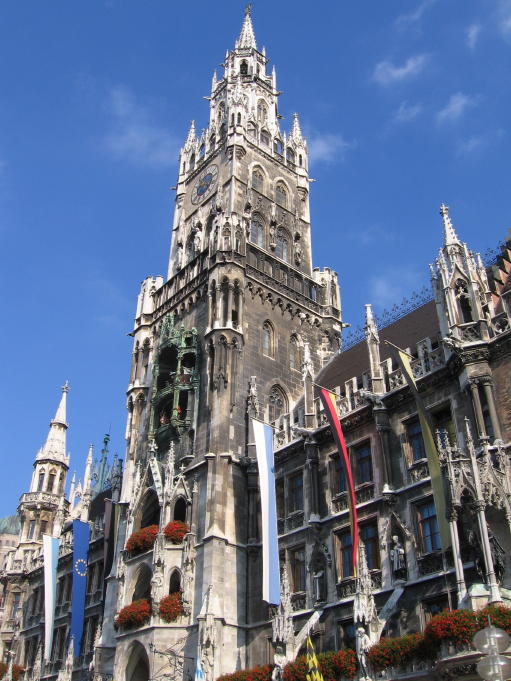 About midway up you can see what looks like a bay window without glass. Inside, there are small characters that dance around when the clock strikes a certain hour, I believe it was 11 am. Though it didn't go off while we were in the square with Noel, we came back to watch later. They have a Bavarian Knight riding his horse carrying a lance, jousting with a knight from another Germanic kingdom. Of course the Bavarian Knight succeeds in knocking the other rider over! There is also the Cooper's Dance (coopers are people who make beer barrels) which commemorates the end of the plague. And finally, when all the bells have rung and all the dancers danced (which takes about 10 minutes or so) there is the grand finale - a rooster at the top of the bay window flaps its wings and crows. Of course he was so tiny and we were standing so far away, that not only could we barely see where he was, we couldn't hear him at all. Wasn't such an impressive ending as we were led to believe. Maybe when the square isn't crowded with noisy tourists.
This is another part of the very large building.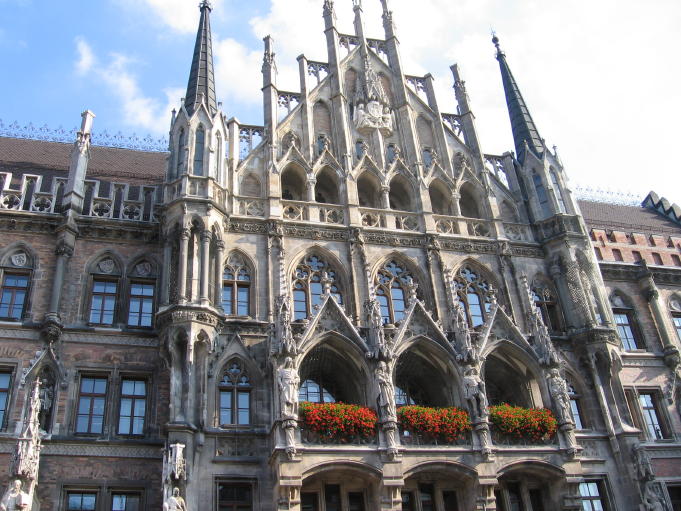 Parts of it had been destroyed during WWII, and you could tell that the colour of the building wasn't consistent throughout. Fortunately the clock tower, with its complex figures, was a part that had survived the bombings.
After having explored the square, we enter the shopping mall Noel pointed out to us. We wandered about a bit, looking at the clothes, discovering how very expensive lederhosen really is, and eventually find ourselves in the food section. There we pick up some chocolates to bring home as gifts and I found a bottle of apple juice called Qoo with a cute little cat on the label. I actually wanted to keep this bottle because of the cute name, and even brought it home, but someone had put it next to the toaster oven and it melted. Ah well.
Back out we go, and off we go in search of THE church. Now you're probably wondering why I capitalized the "THE", especially when I tell you that we walked right past the church without noticing it, the font of it was so plain it looked just like all the buildings around it. It didn't even stand on its own, it was squished between the others on the block. There were also a couple of old guys sitting on the stairs leading up to the door. But look what we saw when we went inside.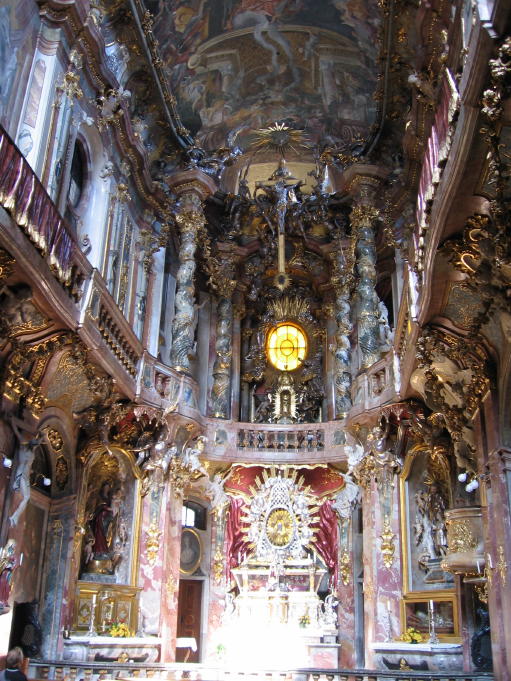 We'd seen church after church on this trip, but the Asamkirche was really the culmination of them all. They could not have squeezed more gilding, more moldings, more anything into the chapel, it was completely overwhelming, even after the amazingly ornate churches we'd seen before. Here is a close-up of the altar.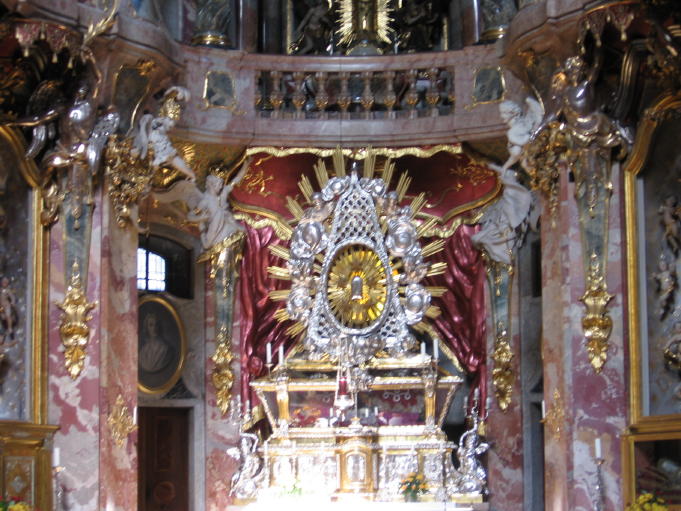 Stunned, we make our way back out into the street and wander off to find the Viktualienmarkt. It was a nice little place where people sold their fresh produce under tents. We didn't buy anything and didn't hang around long because we needed to get back to hear the clock tower chimes. On the way back we got a glimpse into the personality of the people of this country. One young girl on a bicycle bumped into an old lady. Instead of apologizing, she started yelling at the old lady for being in the way. The old lady wasn't about to apologize for walking on the sidewalk so started yelling back. We learnt one important lesson there though, keep out of the way of the cyclists. There were bike paths criss-crossing the sidewalks everywhere, and the moment you stepped into one you risked life and limb, because those cyclists were more dangerous than the motorists, they seemed to have absolute right of way, and they knew it. On the other hand, being a tourist, people were quite friendly to us, and willing to help direct us to where we wanted to go.
Alright, picture us now in a crowd, peering around a corner staring up at the little dancing figurines in the clock tower, listening to the bells....and after a while starting to wonder when it would ever end...having a young Italian guy stick his face in our cameras before wandering off...and finally squinting our eyes trying to see the rooster flap its wings, let alone hear it crow. The excitement over, the tourists start flowing out of the square.
We walk forwards, going past the leftmost edge of the town hall complex, and I notice this little white dragon crawling up the wall. Thought he was kind of cute.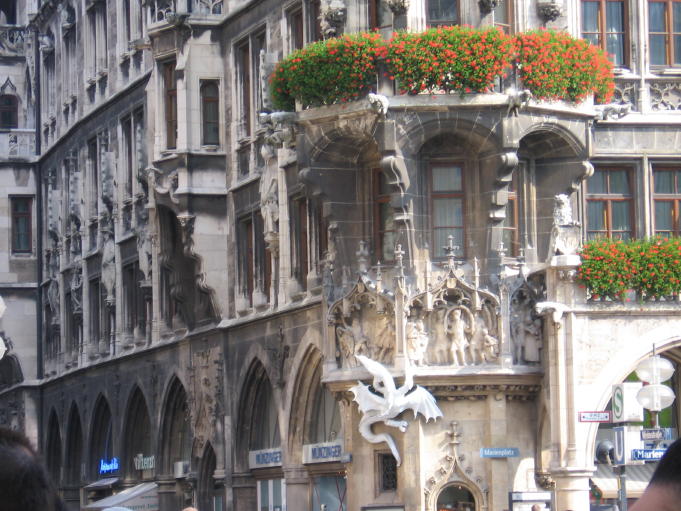 Behind the main square was the Frauenkirche church. It had two extremely tall towers which I had great difficulty fitting into a picture. I managed to get the whole thing in.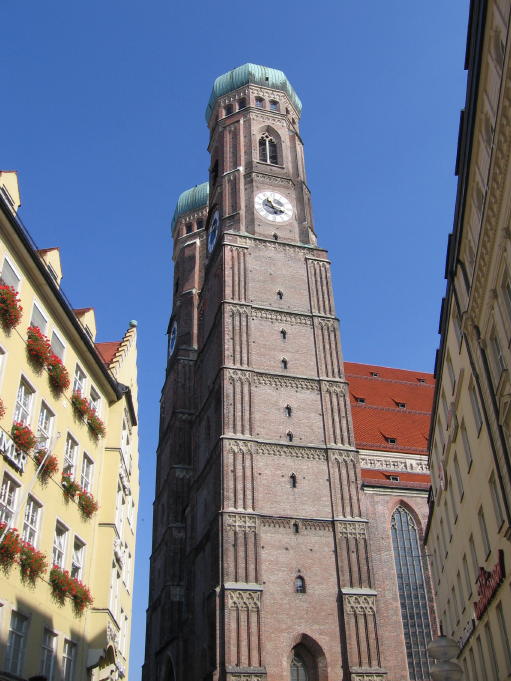 I don't think we actually went inside, or if we did, we didn't take a picture. My mother recalls there being a lot of people outside and it would have been hard to get through the crowd. It's also probably why this picture was taken from the side and not the front. This next picture is just an interesting green building that curves around the street.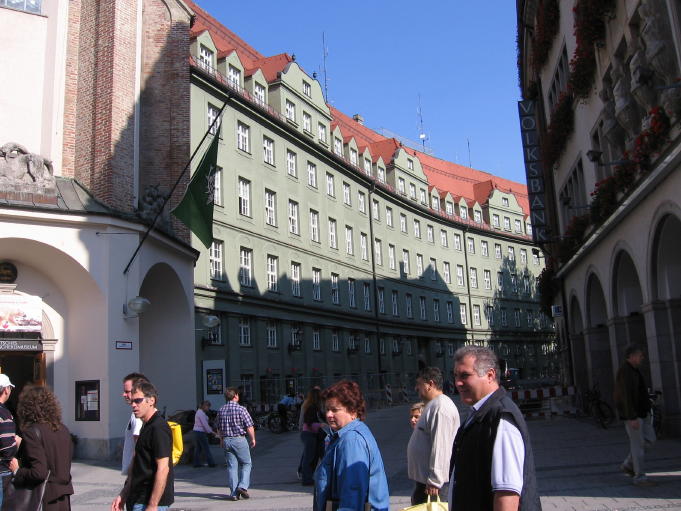 And yes, another church, the Michaelskirche. This one, like the Frauenkirche, is not in the Marienplatz but is nearby. This time I wasn't so lucky, I wasn't able to get the entire building in one picture, so here it is in two halves.