| | |
| --- | --- |
| Title | Summoned |
| Author | Anne M. Pillsworth |
| Cover Art | --- |
| Publisher | Tor - 2014 |
| First Printing | Tor - 2014 |

| | |
| --- | --- |
| Title | The Madonna of the Abattoir |
| Author | Anne M. Pillsworth |
| Cover Art | Sam Wolfe Connelly |
| Publisher | Tor - 2014 |
| First Printing | Tor - 2014 |
| Download | Tor.com |

| | |
| --- | --- |
| Title | Fathomless |
| Author | Anne M. Pillsworth |
| Cover Art | --- |
| Publisher | --- |
| First Printing | --- |

| | |
| --- | --- |
| Title | Unmortal |
| Author | Anne M. Pillsworth |
| Cover Art | --- |
| Publisher | --- |
| First Printing | --- |

| | |
| --- | --- |
| Category | Fantasy |
| Warnings | None |
| Main Characters | Sean, Eddy, Redemption Orne, Helen, Geldman |
| Main Elements | Wizards, demons |
| Website | annempillsworth.com |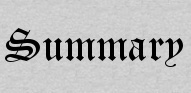 Summoned


I'd heard so much about the Cthulhu mythos that I always planned to read Lovecraft some day, but as of now I didn't get around to it, in fact I actually had to double check that this mythos really was a creation of Lovecraft as this book implies the mythos was around a lot longer and all too real as Sean was about to discover.
Sean accidentally summons a demon...well not completely accidental, he sort of knew what he was doing, but being kid, not fully believing what he was doing was real and being manipulated by a freaking god one could sort of excuse him for his mistake. Thus he summons a Servitor, one super creepy demonic creature that nearly gave me nightmares.
Pros - interesting premise, good world building, engaging characters, mysteries, danger, magic, and creepy if you like that kind of thing. I liked how the adults were involved, unlike so many other middle grade books where adults are either the bad guys or just get in the way (though once they all saw the Servitor they could hardly deny it was real!) The quirky potion shop was definitely a plus, Sean should hang out there and avoid that Reverend...
And that Reverand, one gets pedophile vibes off of him, but at the same time, he doesn't do anything to outright harm Sean, providing him with a spell to summon a harmless creature, it was Nyarlarthotep that has other plans for the boy. An elder god that comes off as evil, but perhaps something one cannot categorize by our own ideals of good and bad. Wouldn't want to learn magic from either of them though, that's for sure. I like it when villains are not pure evil, cackling about drowning kittens and torturing children. Orne was quite concerned when the spell went wrong, but he was on a leash of his own...
Cons - It could be a little slow at times, especially at the beginning as Sean and Eddy try to convince themselves that what was happening was real, and then have to go and convince multiple adults.
I'd continue with this series, maybe after I read a little Lovecraft.

~~~~~~~~~~~~

Well I discovered there was a short story free for the reading, The Madonna of the Abattoir, about Reverend Orne and his demonic wife Patience in Victorian New England. I enjoyed the historical background of the characters, and as Redemption is the narrator we get to learn a little more about him, and confirms the fact that while bound to a dark master he wasn't himself evil. The same could not be said of Patience.
I wouldn't rate the short story as middle grade (meaning for elementary school students), not with the sexual undertones and the vast quantities of blood. It was definitely interesting though, if rather dark and disturbing. Wonder if Patience is still wandering about in Sean's time, I didn't get that impression from Summoned.
Now I really want the read the next book!